Air Force One: Inside The President's Plane
Air Force One is not a specific aircraft, rather, it is the designation given to any aircraft currently carrying the President of the United States. Typically, that's the Boeing 747-200B (of which there are two), with the tail codes 28000 and 29000. These jumbo jets are more significant than probably any other aircraft that's ever existed.
Air Force One Capabilities
The Boeing 747-200B has impressive capabilities, no doubt about that. One of the most impressive is its unlimited range. With the help of aerial refueling, Air Force One theoretically can traverse the entire globe. But on one tank of fuel, which is about 53,000 gallons, the aircraft can fly from Washington D.C. to Tokyo, Japan without refuel; that's 6,735 nautical miles!
It reaches a cruising speed of .84 Mach, which is 644 miles per hour. It's got over 4,000 sq. feet of interior space which is plenty of room for the Commander In Chief and all his staff, plus media and guests. It's a six-story high plane with a wingspan (195 feet) nearly as long as a C-5 Galaxy. Speaking of a C-5, in most cases, especially internationally, the President needs his armored State Car upon landing for ground transport. Wherever the President travels, a C-5 cargo plane meets Air Force One at the location with the Presidential State Car waiting on the terminal.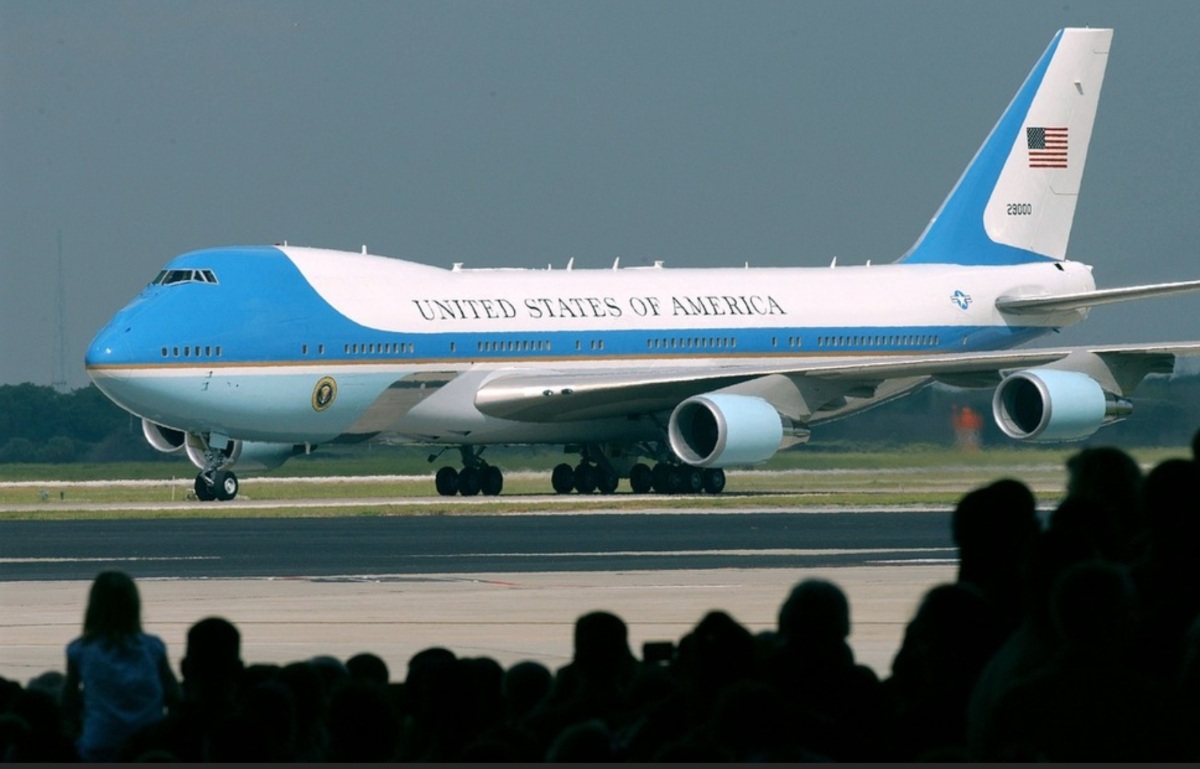 Although it looks like a jumbo commercial jet, make no mistake, this is a U.S. Air Force plane carrying the President of the United States. This aircraft is loaded in defensive countermeasures and electronic defense mechanisms. As well as some impressive electronic gadgets used for business, too.
Most of this information remains heavily classified, but we do know a good bit. The most useful defensive mechanism is likely the electronic countermeasures that jam or diffuse enemy radar. Air Force One also contains flares under the wings that are released to distract any potential heat-seeking missiles. Odds are, a missile could never get that close as the aircraft is heavily monitored at all times by the Air Force. The onboard electronics include about 238 miles of wiring (twice the amount you'd find in a normal 747). Heavy shielding, especially underneath the aircraft, is tough enough to protect the wiring and crucial electronics from the electromagnetic pulse associated with a nuclear blast. The electronic measures, computers and crucial crewmembers (pilot, co-pilot, engineer, navigator) are all located above the president's quarters in the front of the aircraft.
Aesthetic Exterior
The presidential planes weren't always so good-looking, and we can thank First Lady Jackie Kennedy for that. That's right, Mrs. Kennedy – way back in 1962 – played a big part in ushering in a stylish design that represented the nation and her husband appropriately. When the new batch of aircraft was ordered in 1962, they were set to feature the then-standard military aircraft color scheme of red and orange with an outdated blocked typewriter font.
The designs received a detached response from the general public and a negative response from artists and designers alike. Jackie Kennedy, the fashionable First Lady, wanted to make sure that the planes were as physically attractive as possible. She enlisted the help of Raymond Loewy, a designer who worked with Coca-Cola and other top brands of the time. Loewy came to the White House to meet with the Kennedy's, and go over potential designs. Legend has it that he and President Kennedy sat on the floor of the Oval Office and went over color schemes, and type fonts. Loewy elected to swap out 'U.S. Air Force' for a more powerful and less static title of 'The United States of America'. He went over historical documents with the president and settled on the font used in the heading of the Declaration of Independence; Caslon, all caps.
The Kennedy's were known for the appreciation of the color blue, so Cyan and Slate were chosen to colorize the new aircraft wings, with the top of the plane left white and the belly set to silver. The aesthetic design scheme, which remains to this day, was applauded by the American public.
Inside Air Force One
This is no ordinary plane, as you already know. The exterior is striking, but if you've ever seen or heard about the interior of Air Force One you know that it's as luxurious as any plane on Earth. The spacious cabin (which is more like a high-rise office complex combined with a hotel) includes: a conference room that doubles as a dining room with padded leather seats, private quarters for the President and First Lady, a separate office space for senior staff members, a full-grade medical facility, two massive gallies that can prepare up to 100 meals for those on board, sitting and work areas for all other staff members and media representatives, and of course, a private, spacious office for the president to continue work while in the air.
It has nearly 90 telephones on board, several two-way radios, fax machines and computer connections. Assorted office equipment is complemented by 19 televisions. The phone system is set up for normal air to ground connections and secure lines. The president and his staff can reach just about anybody in the world while cruising tens of thousands of feet in the air.
See Air Force One (Boeing 747-200B) Specifications
Primary Function: Presidential Transport
Prime Contractor: Boeing Company
Power Plant: Four General Electric CF6-80C2B1 engines
Thrust: 56,700 pounds, each engine
Wingspan: 195 feet, 8 inches
Length: 231 feet, 10 inches
Height: 63 feet, 5 inches
Long-Range Mission Takeoff Gross Weight: 833,000 pounds
Maximum Landing Weight: 633,000 pounds
Speed:  644 miles per hour (Mach .84)
Service Ceiling: 45,100 feet at cruising speed
Range: Global with in-flight refueling
Crew: 26 including pilot, co-pilot, engineer, navigator, baggage loader, flight attendants and others. Room for 102 total on board.
Unit Cost: $206,000 per flight hour
Service Start: 1990
Inventory: 2