The Bell AH-1Z Viper Attack Helicopter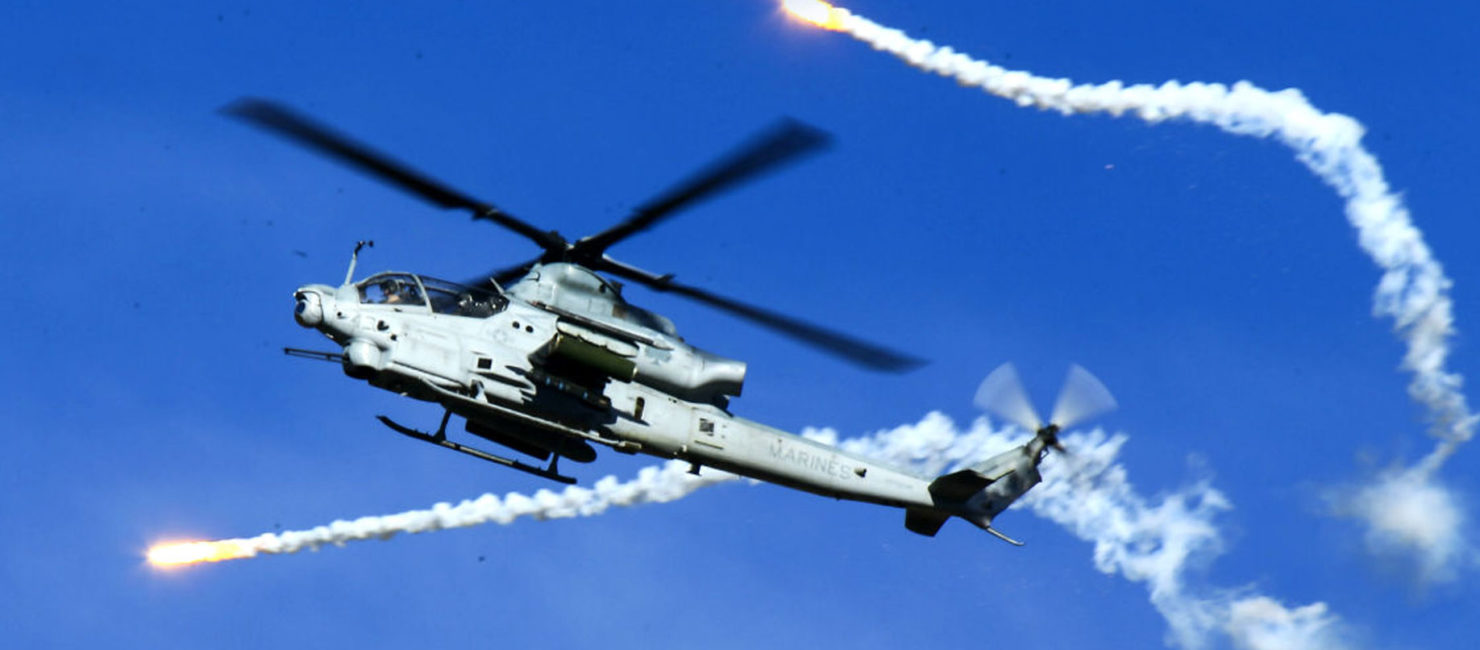 When you think about the U.S. Marine Corps, images of lethal killing machines come to mind. And when they need close air support, they call on the Bell AH-1Z Viper. This twin-engine attack helicopter is among the world's most lethal and is capable of carrying the widest selection of ordnance of any military helicopter ever created.  With anti-armor and air-to-air capabilities, the Bell AH-1Z can engage and defeat a wide range of threats before they knew what hit them.  Delivering unrivaled mission flexibility, the Viper eliminates adversaries while exploiting advanced counter measure technologies, making it the supreme attack helicopter.
Speed:
Cruising at a speed of 160 mph (139 knots), the Bell AH-1Z Viper covers a combat radius of 150 miles (131 nautical miles).  Top speeds reach 230 mph (200 knots), while sideward and rearward flight speeds can eclipse 50 mph (45 knots). That's one fast chopper.
Unique Technology:
The AH-1Z Viper is compatible with the widest array of ordnance of any rotary wing aircraft in history. It is the only helicopter on the planet with fully-integrated air-to-air missiles to go along with superior air-to-ground anti-armor weaponry. This combination makes the Viper the ideal platform to combat a host of conflict scenarios anywhere around the world.
With nearly identical front and rear glass cockpits, the AH-1Z's advanced target sight and identification system provides the longest range and highest accuracy of any helicopter sight in the world.  This allows Viper operators to identify and track multiple targets before the enemy sees it coming.
Cost:
With a sticker price of nearly $30 million, the Viper offers more bang for the buck over other attack platforms, boasting reduced acquisition and sustainment costs.
Because it shares 84% of its parts with the Bell UH-1Y Venom utility helicopter, including common dynamics, avionics, and survivability suites, the UH-1Z requires vastly reduced maintenance and life cycle costs.  Not to mention a corresponding drop in training costs for operators and maintainers.
Weapons Systems:
No one would say this attack helicopter is lacking for firepower. The list of payload configurations speaks for itself.
Two Sidewinder air-to-air missiles
16 HELLFIRE air-to-ground missiles
28 Advanced Precision Kill Weapon Systems guided rockets (APKWS)
76 Mk-66 2.75" rockets
650 rounds of linkless ammunition for the M-197 20 mm cannon
77 gallon auxiliary fuel tanks
Uses:
The Marine Corps' AH-1Z Viper epitomizes the role of close air support. Whether they need cover for advancing ground forces or an aerial escort to a landing zone, the Marines know exactly who to call. While providing precision armament and tactical situational awareness, the Viper is equipped with superior displays that distinguish friend from foe to go along with cutting-edge data transfer systems that provide real-time aerial reconnaissance to Marines on the ground.
History/Development:
The Bell AH-1Z was first built in the year 2000 as one of the latest upgrades to the Huey family which has seen combat action in every conflict since Vietnam.  An upgraded version of the Marines' AH-1W, the Viper (sometimes also referred to as the Zulu Cobra) completed developmental testing in 2006.
In May 2016, the Marines purchased an additional 16 Vipers as part of a contract calling for a total of 189 AH-1Z attack helicopters.
See AH-1Z Viper Specifications
Max Speed:  200 knots indicated airspeed (KIAS); 230 mph
Max Autorotation Speed:  120 KIAS; 138 mph
Combat Radius:  131 nautical miles
Maneuverability:  -0.5 to +2.5 g
Cruise Speed:  139 knots true airspeed (KTAS); 160 mph
Sideward/Rearward Flight:  45 KIAS; 51.8 mph
Max Gross Weight:  18,500 lbs
Max Useful Load:  5,764 lbs
Fuel Capacity:  412.5 gallons
Model:  T700-GE-401C
Output, Uninstalled, Each Engine:  1800 shp
Pilots:  2
Source:
|
Marines.com