A young U.S. Army Air Force member tests the machine gun on a YB-17 bomber. The B-17 was a low-wing monoplane that combined aerodynamic features of the XB-15 giant bomber, still in the design stage, and the Model 247 transport. The B-17 was the first Boeing military aircraft with a flight deck instead of an open cockpit and was armed with bombs and five .30-caliber machine guns mounted in clear "blisters."
Trained inspectors checking the cargo transport at the Long Beach Army Air Field, California. As a Naval Reserve Aviation Base, the mission was to instruct, train and drill Naval Reserve aviation personnel. A ground school was offered three nights a week at the base and two nights a week at the University of California in Los Angeles until 1930, when ground school was continuously offered at the base. On April 9, 1939, training in night flight began, and shortly thereafter its facilities began to be used by fleet aircraft as well.
Installing an engine at the Consolidates Aircraft Corporation Plant. In 1943, Consolidated merged with Vultee Aircraft to form Consolidated-Vultee Aircraft or Convair. General Dynamics purchased a majority interest in Convair in March 1953, where it continued to produce aircraft or aircraft components until being sold to McDonnell Douglas in 1994. McDonnell Douglas shut down the division after just two years of operations in 1996.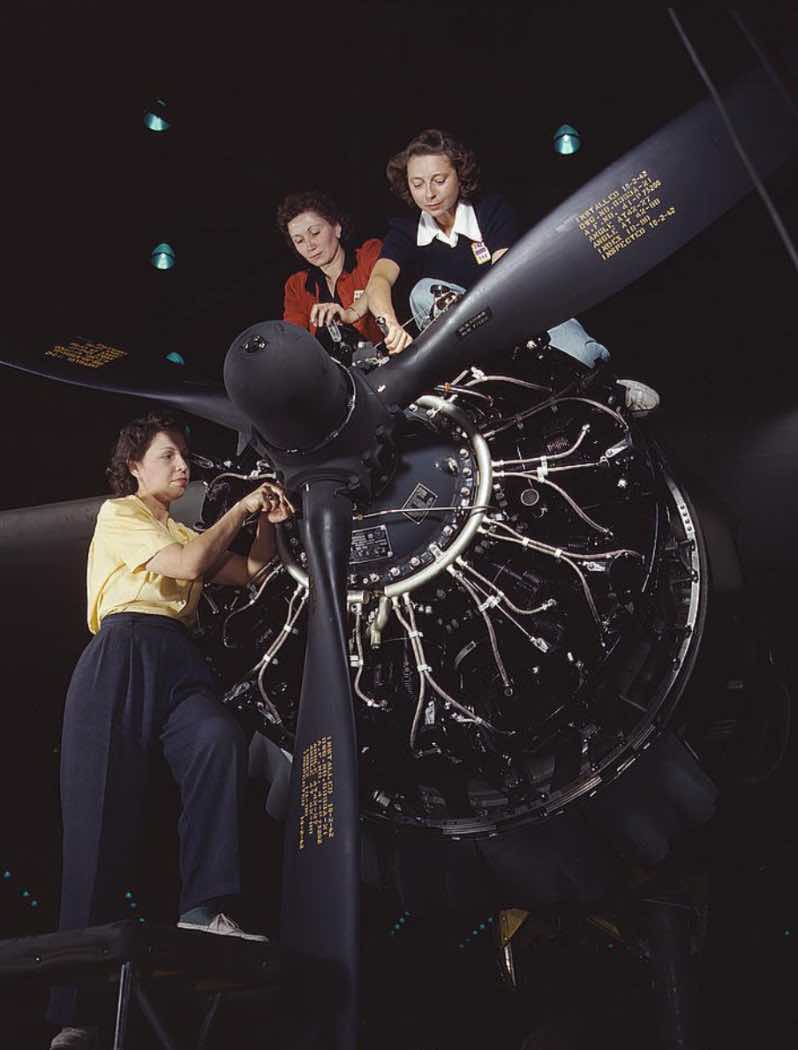 Women working on a C-47 Douglas cargo transport. As a supply plane, the C-47 could carry up to 6,000 pounds of cargo. It could also hold a fully assembled jeep or a 37 mm cannon. As a troop transport, it carried 28 soldiers in full combat gear. As a medical airlift plane, it could accommodate 14 stretcher patients and three nurses. 
Army pilot Lieutenant Mike Hunter at the Douglas Company. Photo shows an A-20B Havoc attack aircraft.These colorized WWII photos were compiled by Military Machine, courtesy of the United States Library of Congress.
Installing a wing brace to a B-25 bomber, a medium bomber usually used as an escort plane. The North American B-25 Mitchell, a twin-engine bomber that became standard equipment for the Allied air forces in World War II, was perhaps the most versatile aircraft of the war. It became the most heavily armed airplane in the world, was used for high- and low-level bombing, strafing, photoreconnaissance, submarine patrol, and even as a fighter and was distinguished as the aircraft that completed the historic raid over Tokyo in 1942.
Woman putting the finishing touches to the nose section of a B-17 U.S. Navy bomber. This photo became well-known for an advertisement from the U.S. Employment Service that read, "The more WOMEN at work, the sooner we WIN." These colorized WWII photos were compiled by Military Machine, courtesy of the United States Library of Congress.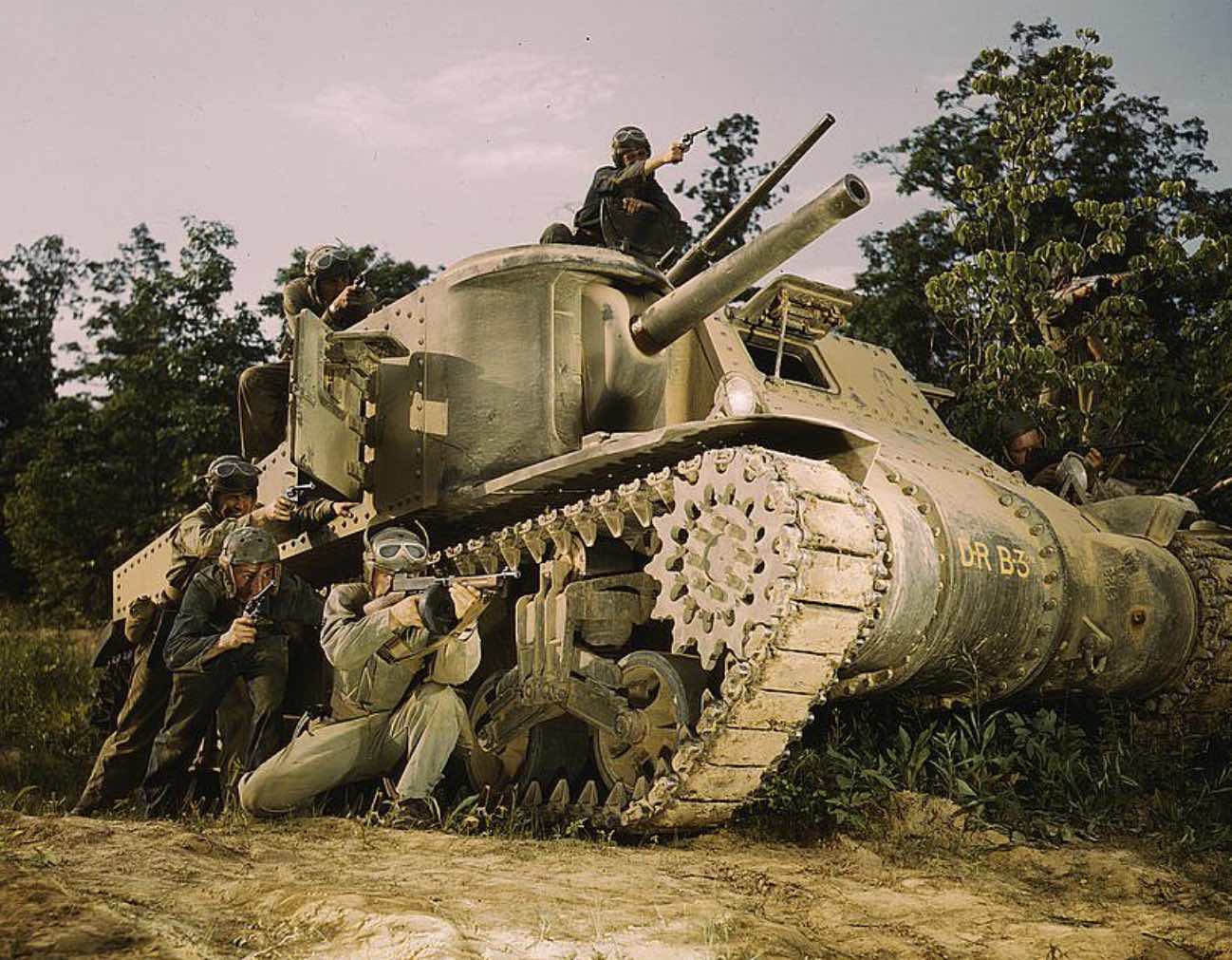 U.S. Army soldiers with a M-3 tank. The M3 Lee, officially Medium Tank, M3, was an American medium tank used during World War II. In Britain, the tank was called by two names based on the turret configuration and crew size.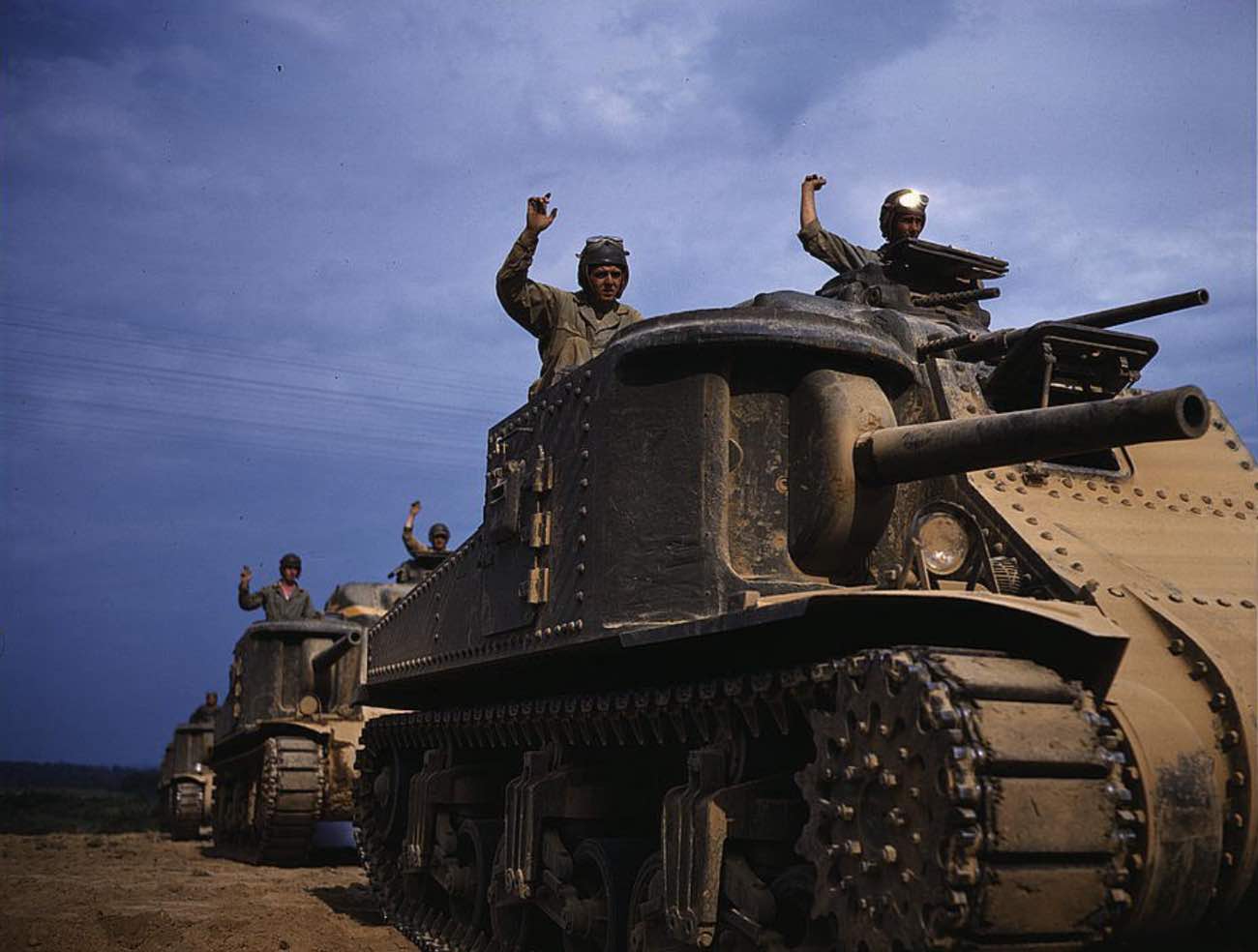 M-3 tanks lined up. Tanks employing US pattern turrets were called the "Lee", named after Confederate general Robert E. Lee. Variants using British pattern turrets were known as "Grant", named after Union general Ulysses S. Grant.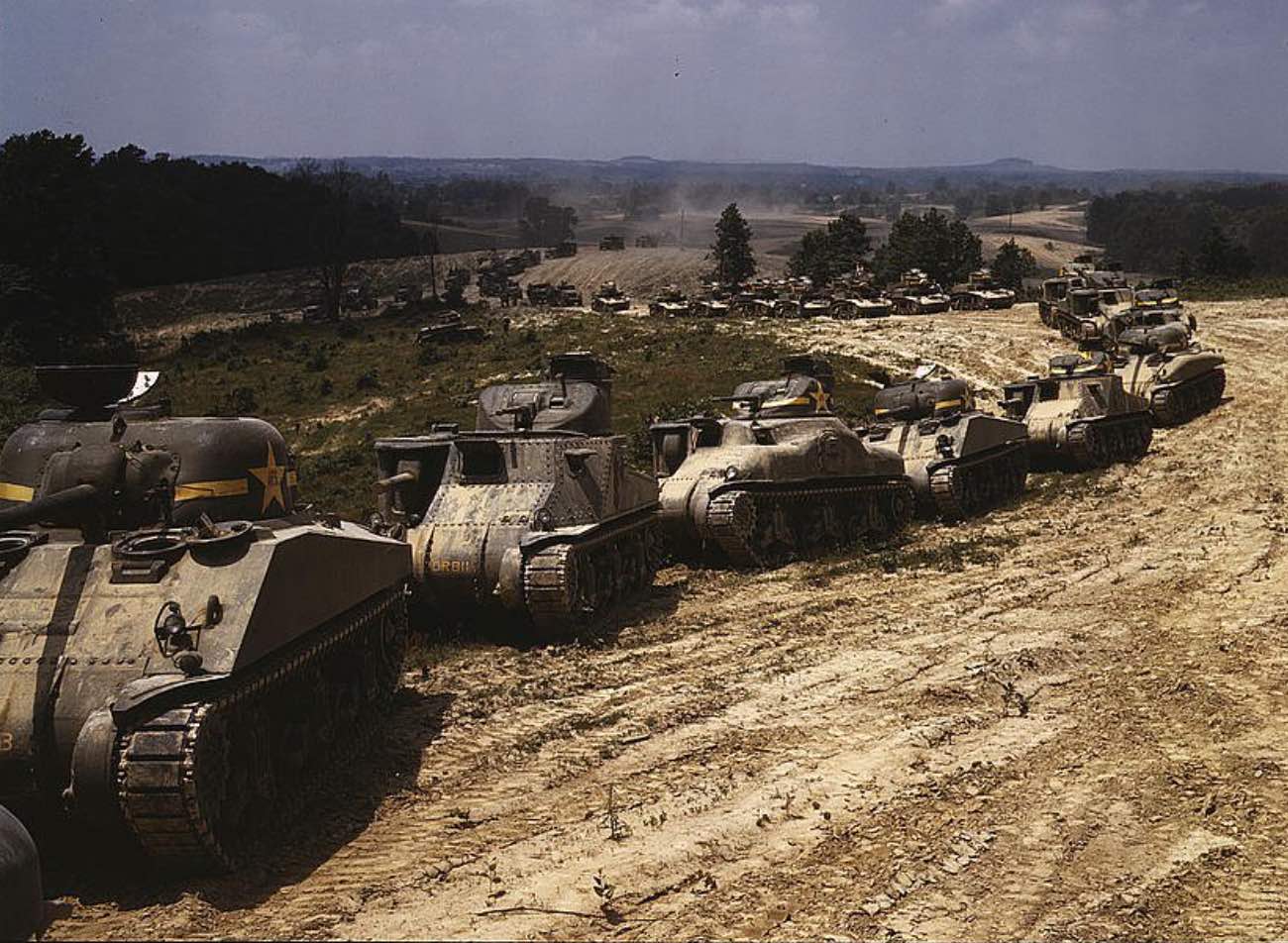 M-4 tank at Fort Knox, Kentucky. The M4 Sherman, officially Medium Tank, M4, was the most widely used medium tank by the United States and Western Allies in World War II. The M4 Sherman proved to be reliable, relatively cheap to produce, and available in great numbers. These colorized WWII photos were compiled by Military Machine, courtesy of the United States Library of Congress.
A sailor mechanic refueling a plane at Naval Air Base, Corpus Christi, Texas. Home to Chief of Naval Air Training, Training Air Wing FOUR, the Corpus Christi Army Depot and other tenants. NAS Corpus Christi has supported pilot training and operations since 1941.
Working on the wing of a Consolidated Liberator Bomber (B-24). In 1938, the United States Army Air Corps (USAAC) sent a request to the Consolidated Aircraft Corporation to become a second source for Boeing B-17s. The B-24 had a higher accident rate than the B-17, which was giving it the reputation of a widow maker.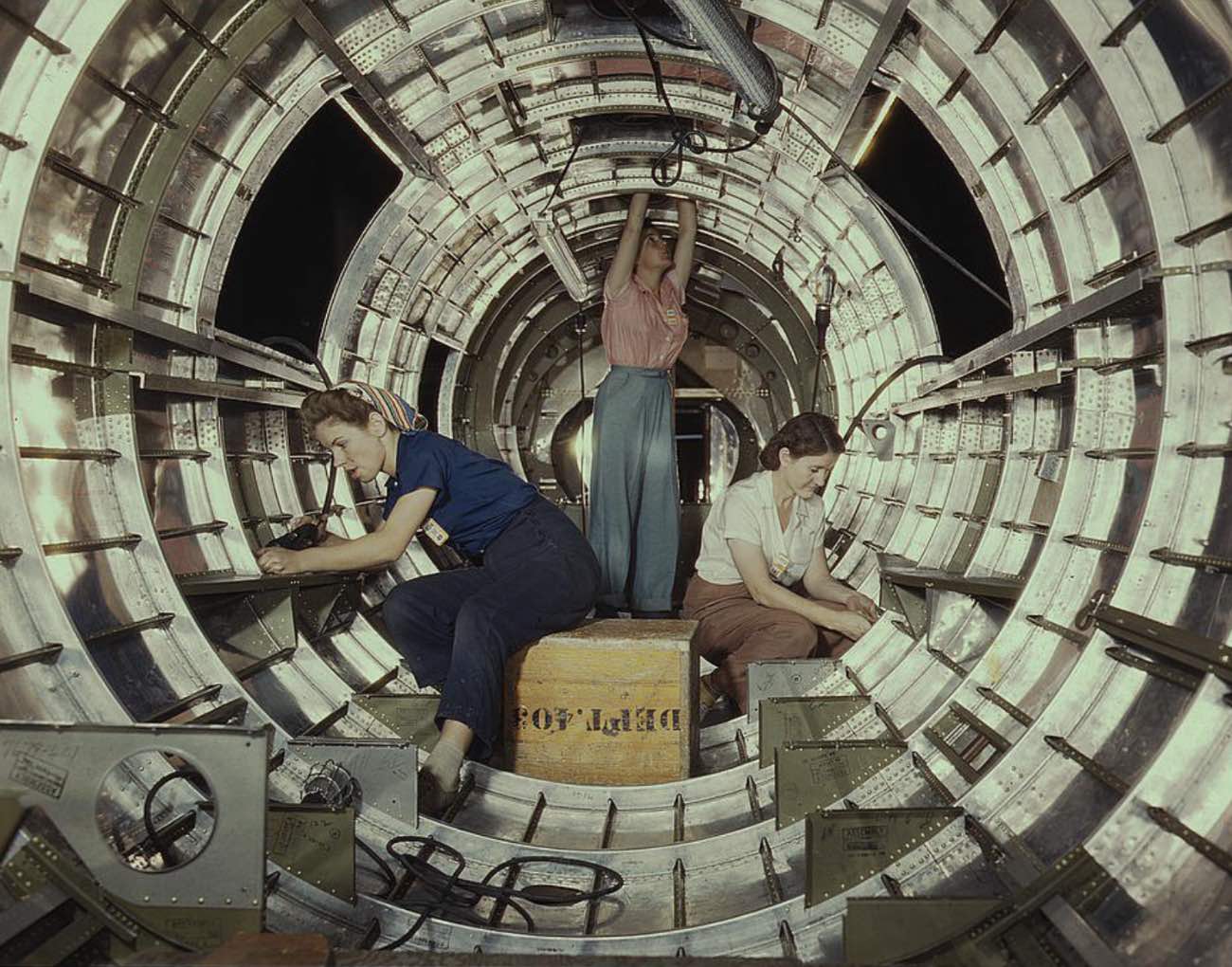 Workers installing fixtures and assembling a tail fuselage of a B-17 bomber.
Two women, one of which is Frances Eggleston, age 23, of Oklahoma,  working on the fuselage of the Liberator Bomber. These colorized WWII photos were compiled by Military Machine, courtesy of the United States Library of Congress.
At the Consolidated Aircraft Corporation plant installing structural parts of a C-87 transport plane.  A transport derivative of the B-24 Liberator heavy bomber, The Consolidated C-87 Liberator Express was built during World War II for the United States Army Air Forces. 287 C-87s were built at the Consolidated Aircraft plant  in Fort Worth, Texas.
Helen Ryan, age 41 (with cap), widow and used to work in a show factory, Heil & Co., Milwaukee, Wisconsin. Agnes Cliemka, age 23, married and husband may be going into the service any day, brother in the army. She used to be a clerk in a department store. Unmasking and checking parts of the gasoline trailers that will be turned over to the Air Force.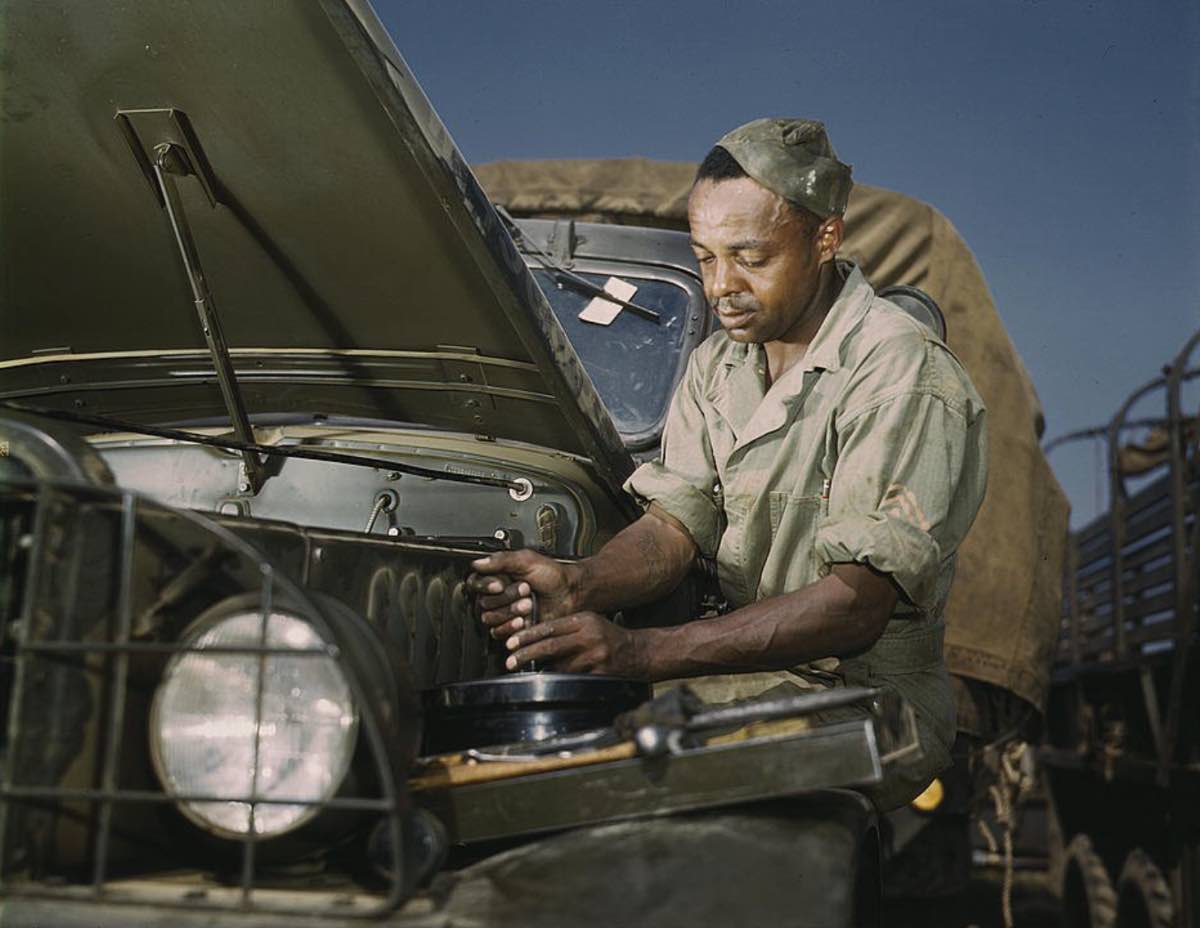 Automotive maintenance worker working on the air cleaner of an army truck, Fort Knox, Ky. This soldier, who serves as truck driver and mechanic, plays an important part in keeping army transport fleets in operation.
Young soldier of the armed forces holding his Garand rifle. These colorized WWII photos were compiled by Military Machine, courtesy of the United States Library of Congress.
Workers assembling a junction box on the fire wall for the right engine of a B-25 bomber. Named for famed airpower pioneer Brigadier General William "Billy" Mitchell, it was a twin-tail, mid-wing land monoplane powered by two 1,700-horsepower Wright Cyclone engines.
Mrs. Virginia Davis, a riveter in the assembly and repair department of the Naval Air Base, supervises Chas. Potter, an NYA trainee from Michigan, Corpus Christi, Texas. After eight weeks of training, he will go into civil service. Should he be inducted or enlist in the armed service, he will be valuable to mechanized units of the Army or Navy.
Many of these colorized WWII photos involved the legendary B-25 "Mitchell" bomber, check out these B-25 images!
---
---