Towards the end of World War II, Nazi Germany developed jet turbine propulsion technology. That may not sound incredible but the Allies were still flying propeller aircraft. Jet technology enabled aircraft to travel at much greater speeds than anything a propeller aircraft could accomplish. This resulted in some astounding developments in terms of bomber and stealth technology. Enter: Horten Ho 229.
---
---
The Horten Ho 229 bomber was meant to be Hitler's "ace in the hole" weapon. Capable of flying at an altitude of up to 49,000 feet and carrying 2,000 pounds, its design looks strikingly similar to the present day B-2 and B-21 stealth bombers. However, because jet technology was so new, there was a bit of misappropriation in terms of armament. As military flight historians will note, the B-2 is not a combat aircraft. It's made to sneak behind enemy radar, drop its payload, and be gone before enemy aircraft can react. Hitler's chief of the Luftwaffe, Hermann Göring, tried to make the Horten Ho 229 both a fighter and a bomber.
---
---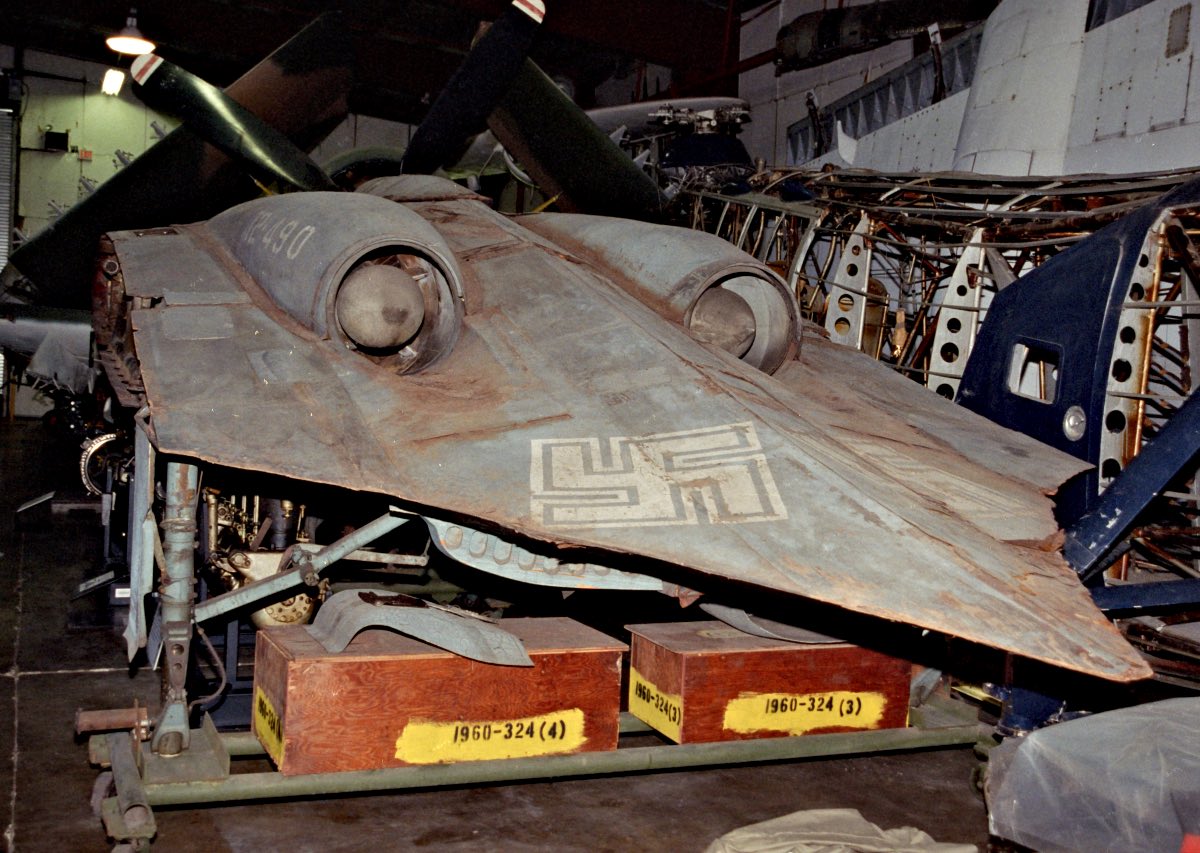 Horten Ho 229 Flying, Maneuverability, and Stealth
Unfortunately, its maneuverability in a dogfight was simply horrendous. Accounts show that it truly did not stand up to the Royal Air Force and Army Air Corps prop fighters. Additionally, the Horten Ho 229 was late to the party. Its first official flight wasn't until 1944. By this point, Russia, Britain, and America were all breathing down Germany's neck. Also, the Luftwaffe was suffering heavily from a lack of proper equipment, trained pilots, and capabilities.
---
---
Still, the Horten Ho 229 succeeded in demonstrating a new capability for military commanders who learned to appropriate its stealth technology. The aircraft flew at high altitudes and masked its radar signature from enemy radar. This allowed it to fly with very little detection over enemy terrain.
However, aircraft's stealth capabilities weren't advanced space-age technology. The wing spars of the Horten Ho 229 were wooden and the wood glue used to bind it together was coated in charcoal. The designers believed the charcoal 'ate up' a portion of the enemy radar waves. They thought this gave the Horten Ho 229 advanced stealth. However, it is likely the 'flying wing' shape of the Horten Ho 229 that's responsible for its low radar cross-section.
Only three Horten Ho 229s were built. This bomber made its first flight on March 1, 1944. Just over a year before Nazi Germany surrendered. In the course of testing the prototypes, there was a notable crash after one of the Junker jet engines went out. Because the aircraft was made partially out of wood, it caught catch fire.
Horten Ho 229 Restoration
Northrup-Grumman recently rebuilt the Horten Ho 229 in 2008 to test how it would have worked against Allied early warning radar detection. They found that the had a radar cross section of roughly 80% of the Messerschmitt Bf 109 fighter at low altitude. This means that whoever was operating the radar would see an aircraft approaching that was 20% smaller than what they would expect to be an incoming fighter plane. If it ever was deployed, it likely would have wrecked havoc behind enemy lines. However, the war was over and now we see similar design properties in the B-2 stealth bomber.
---
---
---
---
Now, read about the chilling survival story of a WWII B-17 pilot who was shot down over the Pacific Ocean.
---
---
---
---