L-39 Albatros Trainer Aircraft
The L-39 Albatros is a conventional jet fighter trainer produced by Aero out of Czechoslovakia. Although not a war fighting aircraft, the Albatros was extensively sold to Warsaw Pact nations during the Cold War because of its excellent trainer capabilities. The L-39 Albatros is reported to be an exceptionally easy aircraft to fly. Used versions of the L-39 are commonly available on the civilian marketplace for as little as $200,000. The very design of this aircraft was for minimal maintenance required. With a maximum speed of 446 mph, it is capable of basic jet fighter maneuvers but incapable of use as an actual jet fighter. For this reason, it was able to get a broad distribution in both military and civilian flight programs.
Despite being designed in the early 1960s, the L-39 Albatros has continually been upgraded to meet the demands of the modern jet aircraft industry. It is still used by almost forty countries in a training capacity. A light strikeform was created which can house an internal main gun and some light armament, but it was never considered to be a major adversary in the sky. As part of a training curriculum, its weapons were primarily to introduce new pilots to weapons systems.
Current Models:
A more advanced version of the L-39 appeared in 2014. The Aero L-39NG ("Next Generation") was produced to better simulate conventional aircraft found in the air. It still lacks any real capacity to act in a warfighting capability against any conventional air force but it does achieve a better speed, improved aeronautics systems, and an overall better sense of what it's like to "fly the real thing". In combination with simulators and ground testing equipment, the L-39 is a fantastic option for both developing militaries around the world and aggressive civilian markets like XE.
Future Trainers:
The Aero company that produces this L-39 offers a line of products closely related to its original L-39 frame. For a lot of former Soviet-bloc countries, the L-39 program is a great choice to train a new generation of pilots without risking a more costly MiG or Su variant. Especially for inexperienced pilots, the L-39's systems are exceptionally rugged and resistant against beginner's errors. This makes it a great choice, because it cuts down on lost aircraft due to pilot error. The advanced L-39NG promises to give a better introduction to a coming generation of MiG and Su aircraft by closely mirroring its internal structure in a similar fashion. Aero is able to customize the internal layout of controls to better match existing aircraft, depending upon the capabilities and needs of the buyer.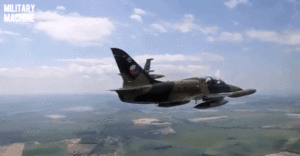 The Aero L-39 Albatros has survived the test of time by being exceptionally flexible and rugged. It was never meant or intended to be a warfighting aircraft but more of an educational platform for future and upcoming generations of pilots. In that respect, the L-39 has done admirably. It continues to be a highly sought-after aircraft in the civilian marketplace, especially with the emergence of private security companies finding a need for light strike capabilities.
See L-39 Albatros Specifications
Power Plant: (1) AI-25TL turbojet
Thrust: 3,307 lb-ft (14.7 kN).
Afterburner: No
Length: 39 feet 10 inches (12.13 m)
Wingspan: 31 feet (9.44 m)
Height: 15 feet 5 inches (4.7 m)
Empty Weight: 7,500 lbs. (3,400 kg)
Loaded Weight: 9,600 lbs. (4,370 kg)
Maximum Speed (High Altitude): 466 mph (750 km/h)
Ferry Range (with drop tanks): 621 mi (1000 km)
Service Ceiling: 38,000 feet (11,500 m)
Crew: 2
References:
Warbird Alley
|
MigFlug