When the fighting of World War II reached her doorsteps in Soviet Union, Mariya Oktyabrskaya evacuated to Siberia in 1941. Her husband – a military officer in the Soviet Army – sent her there for her safety. She was whisked away from her home, away from the action and away from her husband. That was the last time she ever heard from him.
---
---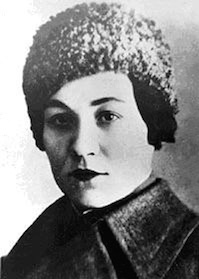 Mariya Oktyabrskaya was born in 1905 in the Crimean region of the Soviet Union. She grew up in a desolate family, as one of 10 children. She worked odd jobs like telephone operator and a factory worker in a cannery for much of her life. In 1925, she married a military officer and her life changed forever.
She took her duty as a military wife very seriously. Oktyabrskaya joined the 'Military Wives Council' where she was an active member and wanted to be as productive as possible for the Soviet Army. She was trained as a nurse in the Army, always willing to lend a hand. She even learned how to handle firearms and drive.
Military Background of Mariya Oktyabrskaya
Oktyabrskaya was quoted as saying, "Marry a serviceman, and you serve in the army: an officer's wife is not only a proud woman, but also responsible title." She lived that ideal through her entire marriage, and even afterwards, until her death.
Oktyabrskaya spent nearly two years in Tomsk, Siberia, waiting and hoping for any kind of news of her husband. Weeks, months and even years went by and still, she had not heard from him. Then, two years after leaving her home for Siberia, she learned of her husband's death. Her husband died not long after they separated, but the news took two years to reach her in Siberia.
Rather than sulk and grieve, she grew angry. She wanted to fight back. She was determined to avenge her husband's death and so she did something unconventional. Oktyabrskaya sold everything she owned and raised enough money to donate a T-34 tank to the Soviet Army under one condition: she wanted to drive it.
After she donated the tank to army, Oktyabrskaya completed mandatory five-month tank training. She passed with flying colors and in September, 1943, was transferred to the 26th Guards Tank Brigade as a mechanic/driver. Once there – she was treated as a public relations prop. Her fellow comrades and superiors did not believe she had what it took to serve in the war. They assumed what the State Committee of Defense assumed as well; that this would make a nice story and excellent propaganda for the war efforts.
---
---
---
---
No one knew how pissed off she was.
The 'Fighting Girlfriend' In Combat
On October 21, 1943 a T-34 tank showed up to the battlefield in Smolensk with the phrase, 'Fighting Girlfriend' written in big bold letters on the turret. Oktyabrskaya announced her arrival with emphasis and backed up her boldness. Her comrades were still questioning her prowess, but when the battle was over no one doubted her any longer.
Oktyabrskaya was the first tank to breach enemy lines. She took out a machine gun nest and several artillery pieces that day as she led her brigade to victory. But that wasn't what earned her unending respect from her fellow troops. At one point in the battle, Oktyabrskaya's tank came under fire and was disabled. Against direct orders – her brigade's deputy, a lieutenant colonel, was in her tank that day as an observer – she hopped out of her tank and went to work on repairing it. She got the T-34 running, amidst enemy fire, and continued to advance on the enemy.
---
---
She was promoted to a Sergeant that day.
On month later, during a night raid on the village of Novoye Selo, she did it again. An artillery shell exploded on her tracks, disabling her tank. Oktyabrskaya lept out, got to work and fixed her tank tracks while her comrades provided cover fire. It took nearly two days, and the gunner fired continuously from the tank – but they got the track fixed and rejoined their brigade. Because of her bravery, Mariya Oktyabrskaya continued to cement her legacy.
---
---
Mariya Oktyabrskaya – Fighting Girlfriend – Reaches the End
Two months later in January of 1944, during another night raid – this time as a part of the Leningrad-Novgorod Offensive near Shvedy – she continued to pick apart the German defenses. She destroyed multiple machine gun nests, cleared out resistance in treches, and even took out a German self-propelled machine gun. However, the 'Fighting Girlfriend' was yet again disabled by an anti-tank shell.
Oktyabrskaya got out of her T-34 for the third time – all of which were against direct orders – and went to work on fixing her tank tracks. And for the third time in a row, she fixed her tank. Except in this battle, she was hit in the head by artillery shrapnel. She was knocked out, unresponsive and evacuated from battle.
---
---
Two months later, Mariya Oktyabrskaya died on March 15 in Fastov field hospital.
After her death, Oktyabrskaya was awarded the Hero of the Soviet Union honor, the highest award in the Soviet military for her heroic, selfless and unusually brave efforts. She is the first woman ever awarded that honor.
Sergeant Mariya Oktyabrskaya may have died at the ripe age of 38, but the legend of the 'Fighting Girlfriend' will live on forever.
References:
Red & Soviet Military and Paramilitary Services: Female Uniforms
---
---