25 Military Vehicles That Civilians Can Own
Oshkosh L-ATV
With the US military's fleet of HUMVEEs getting older, the DOD is looking for a potential replacement. The Oshkosh Corporation of Oshkosh, Wisconsin, has thrown its hat into the ring with the L-ATV. The name stands for Light Combat All-Terrain Vehicle. Like many vehicle names, this tells us what it's for. The 6.6 liter Duramax engine and 6 speed Allison transmission can carry this beast anywhere it may need to go. The armor is still classified, but the weapons mounting points are numerous. While this is fully intended as a military vehicle, the unarmored version is available for civilian sale from a select number of dealers around the US.
Renault Sherpa 2
The US's HUMVEE sent other Western militaries into a scramble to find an equivalent. They needed an all terrain light vehicle for staff use, reconnaissance, and basic transport. Renault Trucks Defense found an answer for France in the Sherpa 2. In its military configuration, the Sherpa 2 is armored with ballistic armor, anti-mine protection, and IED kits. Additionally, it's Euro 5 engine produces 215 horsepower, giving it a top speed of around 75 miles per hour. Its rigid axles may seem odd in an offroad vehicle, but the innovative and robust design makes up for this. Produced since 2006, there are plenty of surplus Sherpa 2s on the market for civilian purchase. Pick one up for the perfect offroad vehicle for a weekend in the mud.
GAZ Tiger
Russian engineering has a reputation for toughness and reliability, and the GAZ Tiger is no exception. A 4×4 offroad military vehicle, the GAZ Tiger has a multipurpose design. Its basic mission is to transport troops and equipment both offroad and on, but its many possible variations give it a lot of flexibility. Its unarmored versions are staff cars. There are versions serving as mobile medical bays. Additionally, there are versions with advanced communications and electronic warfare equipment. All are driven by the same Cummins 5.9 L engine and supported by a JSC 5-speed manual transmission. The GAZ Tiger is widely available in Eastern Europe for civilian ownership, both as a surplus vehicle and in unarmored civilian variations from the factory.
Mercedes-Benz G63 AMG 6×6
At one time it was the largest and second most expensive street-legal vehicle in the company's lineup. The Mercedes-Benz G63 is an odd blend of military engineering and high end civilian luxury. Based in part on the Mercedes-Benz G-Wagon and designed and produced for the Australian military, the G63 features an advanced automatic transmission that can be adjusted for either on or off road conditions.
The ground clearance is high enough to navigate most obstacles when piloted by a good driver. For off-road use, the G63 has the ability to automatically adjust tire pressure via an internal compressor in order to better adapt to sandy or muddy conditions. However, while the military versions have yet to hit the surplus market, civilian street legal versions abound for those who can afford a Mercedes-Benz price tag. And, in terms of military vehicles for sale go, it has to be one of the most stylish.
Paramount Marauder
South Africa's Paramount Group is a manufacturer with a long history of making robust military vehicles. The Marauder lives up to that standard—and it's a great military vehicle for civilians to own. Designed for reconnaissance use as well as UN peacekeeping missions, the Marauder can carry a crew of ten or up to 13,000 lbs of equipment. The unique double-skinned monocoque hull provides protection from most small arms fire, and anti-mine/IED packages are available. In military use, the Marauder can be configured to carry a variety of weapons systems, including machine guns and light missile launchers. While a civilian version has been in production since 2008, surplus military versions are also for sale across southern Africa. It's one of the coolest military vehicles for sale.
Polaris MV 850
While other manfacturers were attempting to create the next HUMVEE, Polaris went in a different direction creating a military ATV. As far as military vehicles for sale go, the Polaris MV 850 might look like a fun off-roading toy, but don't let it fool you. This is a military vehicle through and through. The non-pneumatic tires are state of the art and can withstand small arms fire. The lighting is adjustable to work either the bare eye or with night vision equipment. The ballistic armor is cutting edge, and the 850cc engine packs enough punch to haul 600lbs of payload anywhere wheels can carry. While this military vehicle hasn't gone surplus yet, it's open to civilian ownership straight from the factory.
Supacat LRV 400
Currently in its second version, the Supacat LRV 400 is a military vehicle in continuous evolution. The LVR stands for "light reconnaissance vehicle" which tell us its intended role in a military environment. The LRV 400's versatility is apparent in its list of optional features, including remote weapons station, weapon mounts, smoke grenade launchers, IR lights, on board water boiler, Pinnacle compass, canvas roof and side screens, and forward and rear facing IR cameras. While the LRV 400 does come with multiple weapons mounts, it does not ship with the weapons. This means that it is one of several military vehicles for sale in many parts of the world.
Military Vehicles For Sale – HUMVEE
Manufactured by AM General, the High Mobility Multi-Purpose Wheeled Vehicle or Humvee as it is often referred to, is a mobile, four-wheel-drive, diesel tactical vehicle and serves at the core of the US Army's wheeled vehicle fleet. Incredibly modular, the HMMWV has 17 different variations from troop carriers to ambulances to weapons platforms, and can be purchased by the public with relative ease. These tough vehicles were produced in high numbers making them plentiful on the civilian register. Prices vary depending on the variant, condition and year, but a quick internet search located these classic military vehicles for sale for as little as $4,000.
Thales Hawkei
Australian military equipment is often overlooked, however it is consistently high quality and innovative. One of many military vehicles for sale, the Thales Hawkei is a case in point. Billed as a "next generation" protected vehicle, the Hawkei is a 4×4 vehicle with a three tonne payload. Available in two and four door variants, it can carry up to six occupants in standard configuration. And like all good military vehicles, versatility is key: the Hawkei can function as a troop carrier, staff car, command and control vehicle, reconnaissance vehicle, or as an electronic warfare platform. As with many military vehicles for sale to civilians, the military features are restricted. But the vehicle itself is already available for civilian sale in many countries, including the US and Australia.
DUKW – The Duck
The oddly named DUKW is better known as the Duck. It's a six wheel drive amphibious version of a utility truck. General Motors and Sparkman & Stephens manufactured the Duck from 1942 until 1945 – intended for use by the United States military during the Second World War. And it proved to be versatile in service, able to carry 5,000 lbs of payload through water and over rough terrain. With a top on road speed of 50 mp and just over 6 mph on the water, it can get troops where they need to be, fast. While they're no longer in production, there are several companies actively restoring these military vehicles for sale to civilians.
Alvis Stalwart
The United Kingdom-produced Stalwart amphibious cargo vehicle entered service in 1966. It was designed an unarmored vehicle to supply forward units with fuel and ammunition. The Alvis Stalwart carried either 30 fully-loaded troops or roughly 11,000 pounds of cargo. The Stalwart utilized a 220 horsepower Rolls Royce B-81 engine that gave the cargo vehicle for sale to civilians a top speed of 40 miles per hour on the road and about 7 miles per hour on water. The Stalwart is for sale to civilians for anywhere aorund $20,000.
Tucker SnoCat
When you sneeze, have you ever said, "Hand me a Kleenex" even though the brand of tissue may not be Kleenex? That's how it is with referring to tracked over-snow vehicles as Snowcats. The Tucker Sno-Cat Corporation trademarked the name in the 1960s when it began to produce this terrain-specific military vehicle. Since then many producers make Snowcats, but Tucker – who's vehicles have done transports, cargo, tactical, etc. type of work for the U.S. military – was the orginial. Because the models cary so heavily – there's no consistent price. But expect a Tucker Sno-Cat to reasonably fetch $100,000 on average.
Terradyne Gurkha
Nepali soldiers who serve in the British Army are referred to as 'Gurkas' – this vehicle is named to pay homage to them. Built by Terradyne Corporation in Ontario, Canada the tactical, armored vehicle is designed around a Ford F550 chassis. The military vehicle can accomadate 8 soldiers as well as the 2 man crew in the crew cab. A Terradyne Gurka used in a recent movie (fully loaded and tricked out) costs about $275,000…after it's been used for the movie. A brand new Terradyne Gurkha is for sale to civilians for roughly $700,000.
SS-21 Scarab Nuclear Missile Launcher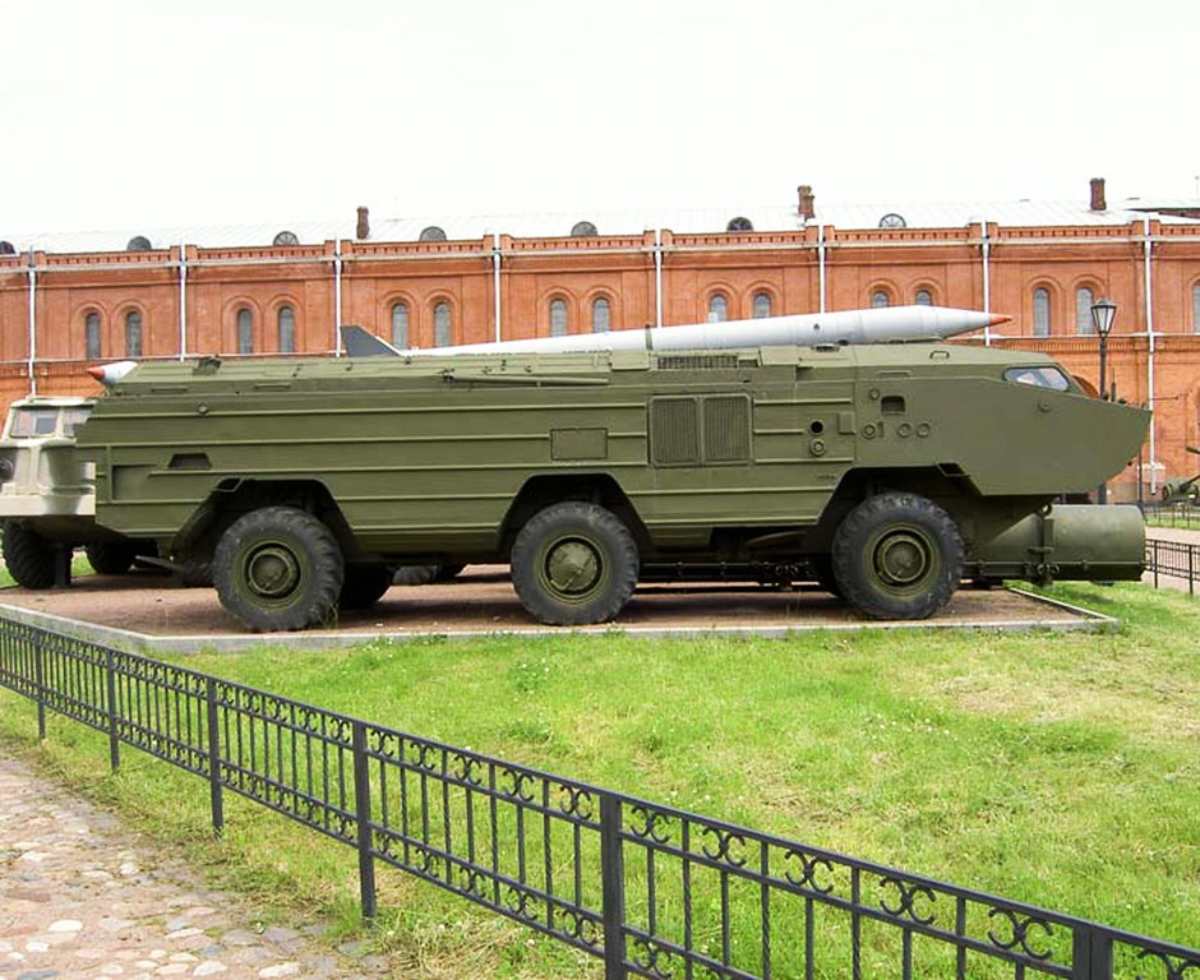 Nuclear missiles sold seperately, of course. The SS-21 Scarab – original name OTR-21 Tochka (it is a Russian vehicle) – was designed as a groun-t-ground short-range missile launcher. The missile launcher is riding atop a 9P129 Tochka – which is for sale to civilians for anywhere around $125,000.
Chieftain MK-10
This tank changed so much of how tanks operate. The Chieftain MK-10 was introduced in the 1960s and remained in service for nearly three decades. It was the main battle tank of the United Kingfom during that period. It's extremely powerful main gun and excessive armor were the top of the line when the MK-10 was introduced in the mid-60s. It is most well-known for introducing a supine driver position that allowed a sloped hull and reduced overall tank height.
BMY M923A2 5-ton 6×6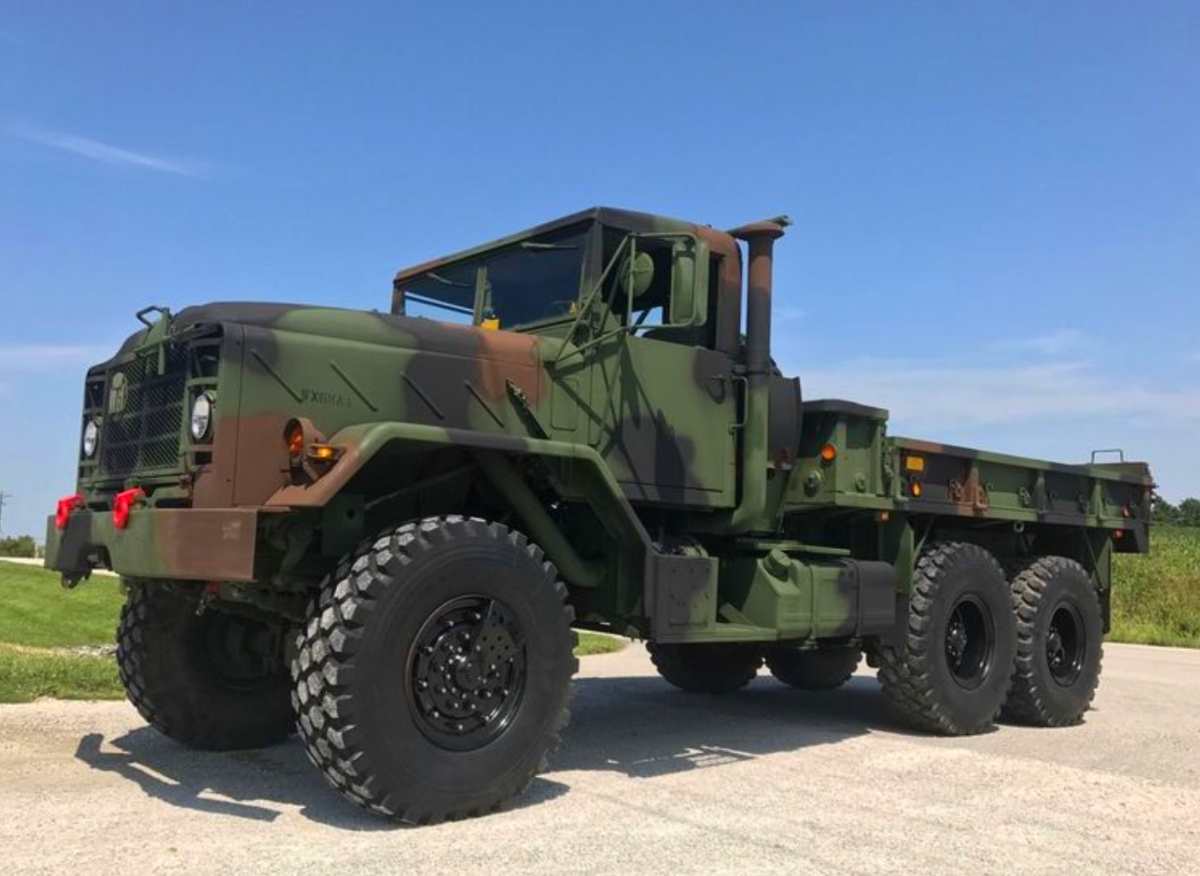 This behemoth, 10,000-pound cargo truck is powered by a Cummins 8.3 Liter Diesel Turbo Engine, has a 14-foot cargo bed, and weighs out over 30,000 pounds gross. It is a verified BOSS. The design and function if the vehicle speaks for itself…move lots of things in tough terrain. But potential functions for this military vehicle range beyond the military spectrum. It's a great truck for sever commercial and private projects. It's for sale to civilians for roughly $22,000. Yep, that's it. Go get one.
Stevenson M1079 LMTV 4×4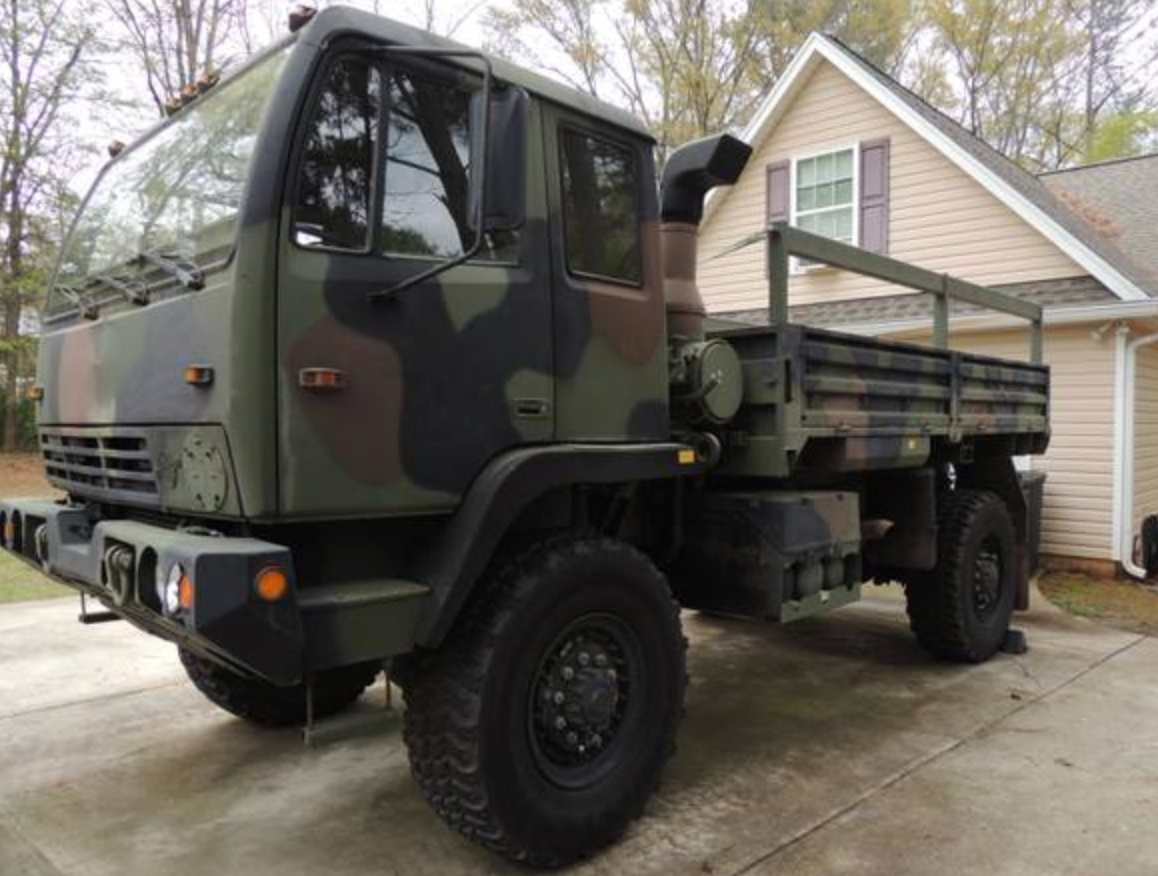 When the U.S. Army was honing in on a reliable, inexpensive light utility vehicle that could serve for years to come, it was the mid 1980s. The vehicle the selcted was the Stewart & Stevenson design of the M1079 4×4 LMTV. The company manufactured them until 2012 when OshKosh took over. The design is based on the Austrian Steyr 12M18 and it's available to be sold to citizens for anywhere from $2,000 to $5,000.
M38A1 Jeep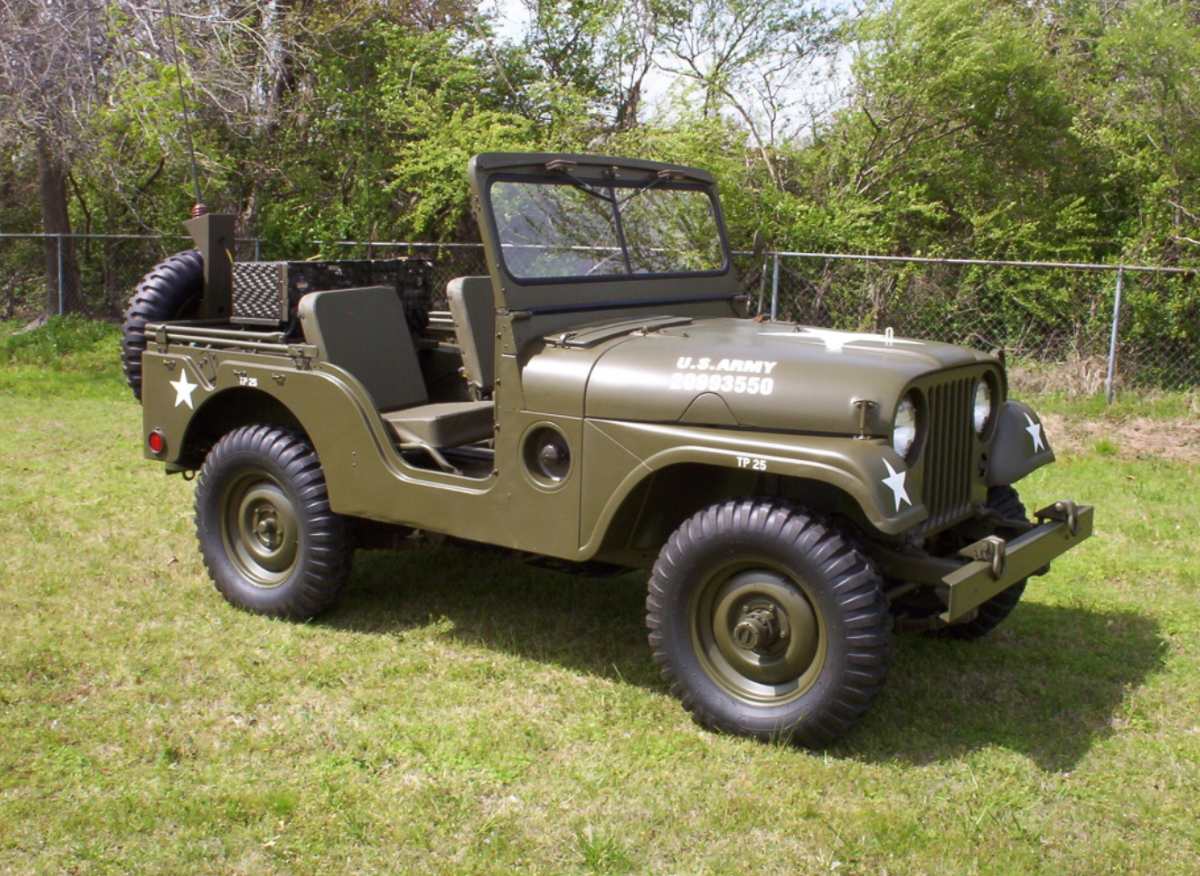 One of the more recognizable, beloved vehicle on this list – the Willys M38. The four-wheel drive, light utlity truck became legendary for being the go-to jeep near the frontlines for decades. The two-door vehicle was produced from 1952 to 1971 – nearly a twenty-year stretch. The Hurricane F-Head 143 inline four-engine powered the M38. You could snag one for yourself for anywhere from $3,000 to $20,000 depending on year and quality.
Dodge WC-54 Ambulance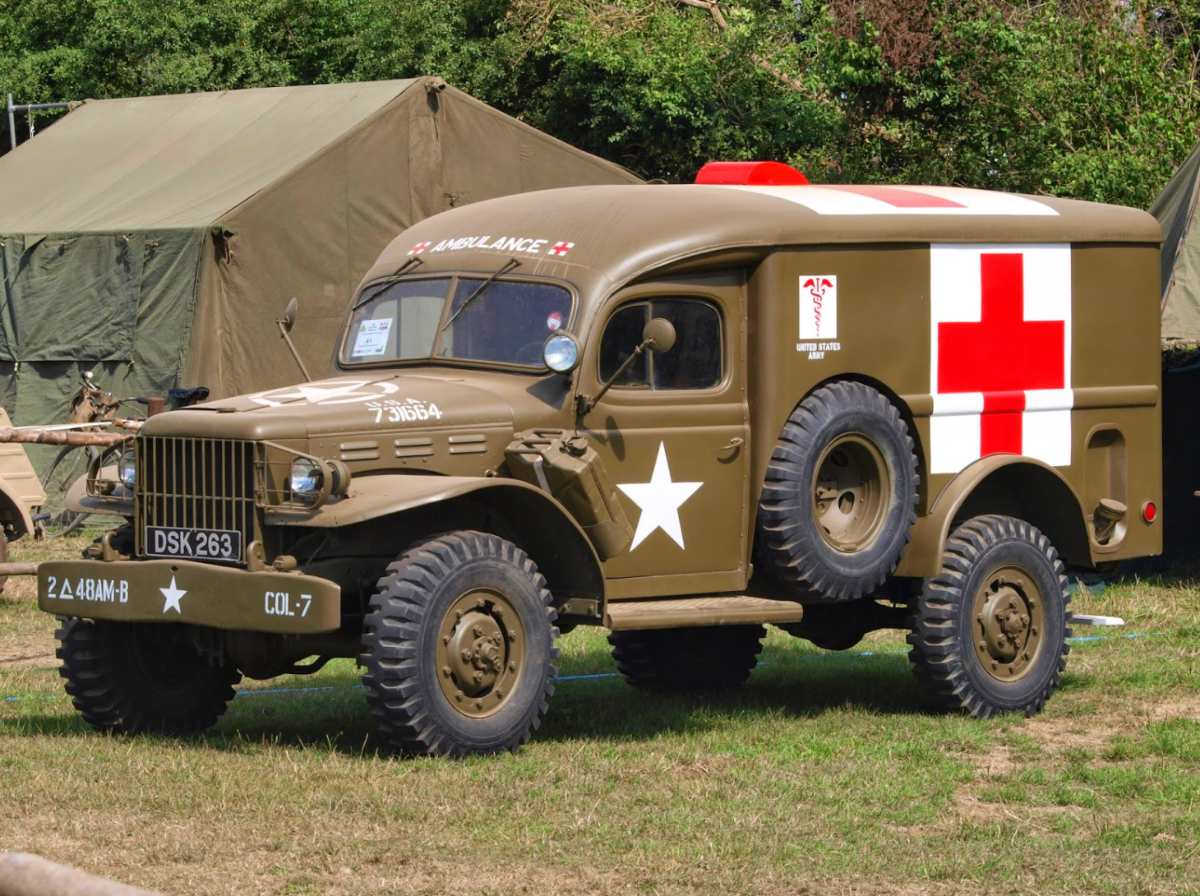 The World War II Museum summed it up, "Produced from 1942 to 1944, the Dodge WC-54 was the standars US ambulance. Rood-mounted slings and folding-bench seating provided room for four streatcher six seated patients."
Over 23,000 were made and now, the Dodge WC-54's for sale to civilians. It's powered by a Dodge T214 6-cylinder engine, which gives it a max speed of roughly 55 miles per hour. A recent Dodge WC-54 for sale went for $22,000.
Patton M47 Medium Battle Tank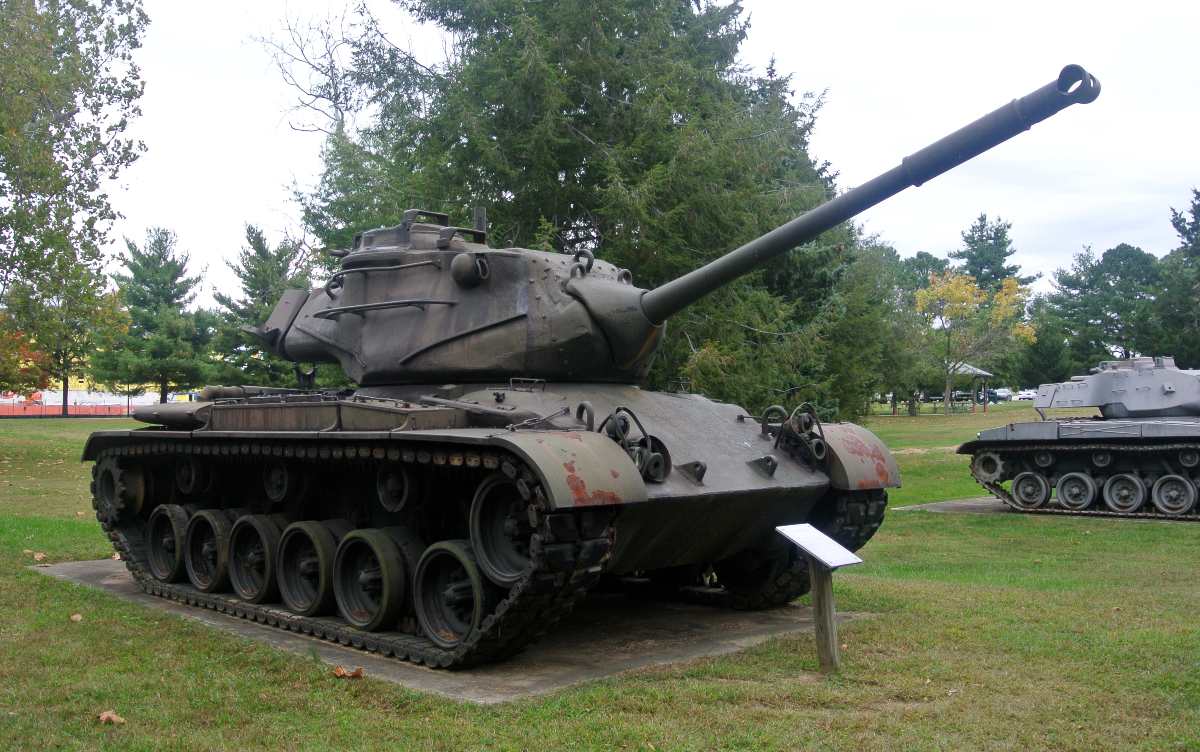 The M47 was essentially just a cog in the ever-evolving line of M Patton tanks. Built off the M26 Pershing, the M47 was a continuation of the M46 and was quickly replaced with the next one in line – the M48 Patton which eventually resulted in the M60 Patton. THe M47 was a medium tank which served a seemingly singular purpose – as the main battle tank in the critical early years of the Cold War. But now, it is available for purchase by just about any citizen who wants to drive a tank!
Whiskey Class Submarine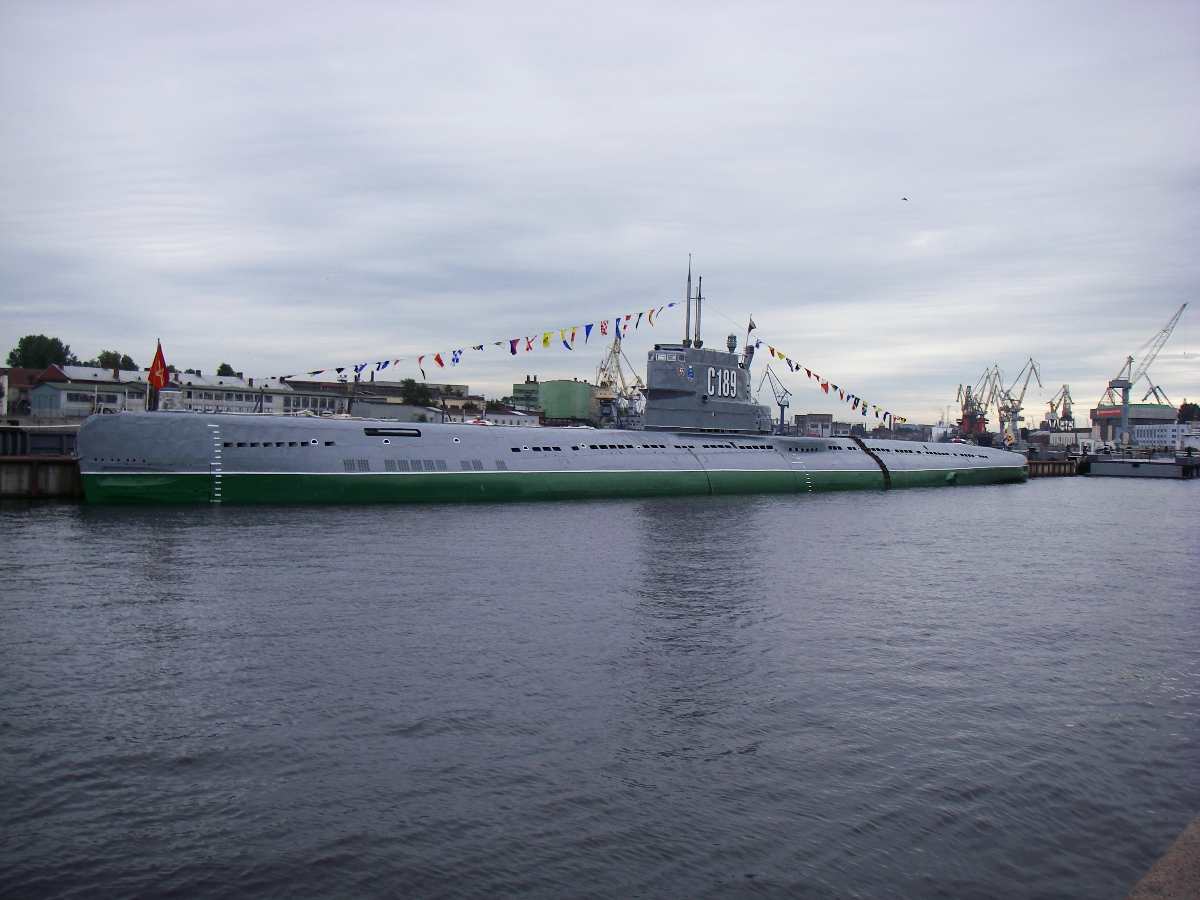 It's hard to imagine, but yes – submarines can be bought by certain civilians. The Whiskey-class submarine was a premier threat to the West as the tensions of the Cold War heightened. The Soviet Union vessel eventually operated under more than 40 other nations until it finally retired from duty in the ealry 1990s. A machine that was built to last, many are still operable today. If you've got all the right licenses, know-how, and space to operate; a Whiskey-class Submarine can be bought for roughly $500,000.
Dodge Carryall WC53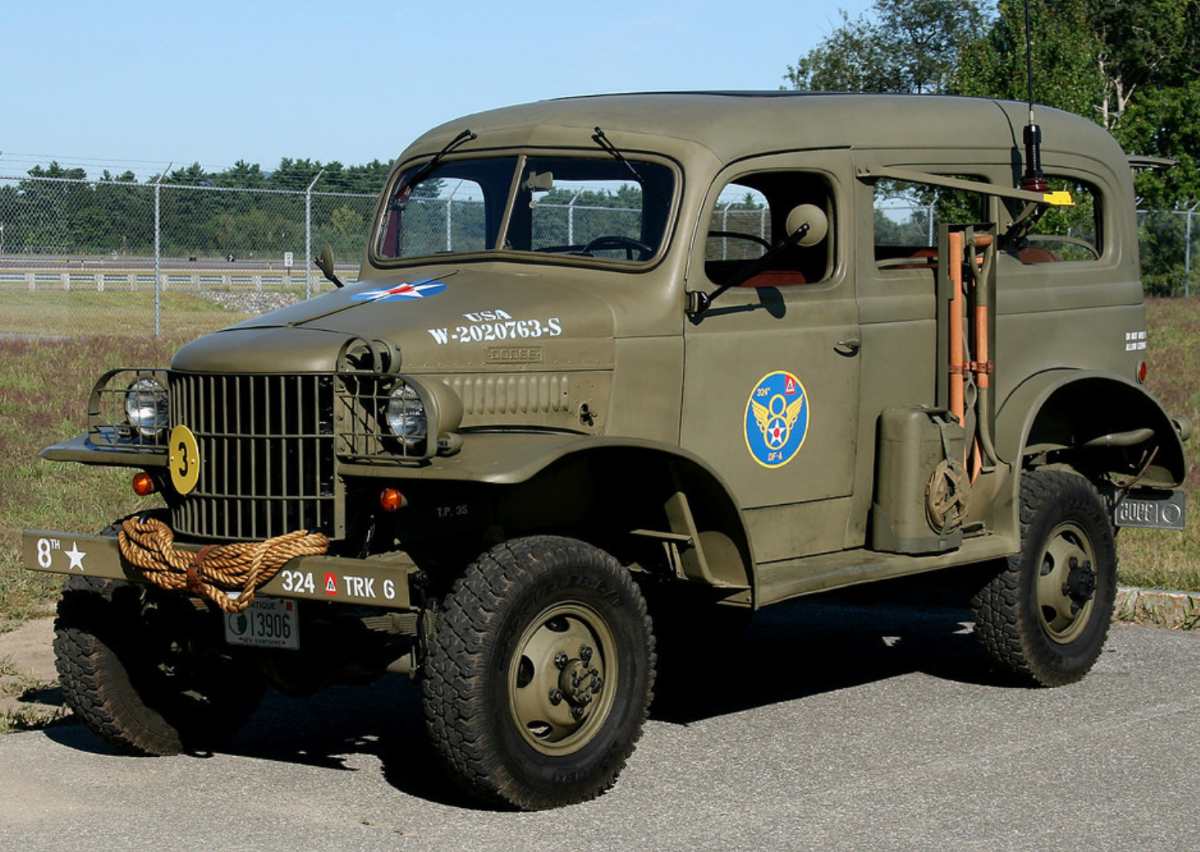 Warhorse + Workaholic = Workhorse. The legendary WC series of Dodge military trucks peaked when the WC-53 Carryall hit the market. It was designed for consistent front-line exposure – so you know it was built with toughness in mind. Perhaps that's why so many are still running and for sale all these years later. If you wanted to really empty your bank account and drive the coolest car on the road, about $250,000 can get you a complete, authentic restoration. But if you want one as is – rust and all – then about $18,000 is rough average of WC-53s on the market.
Kaiser Jeep M715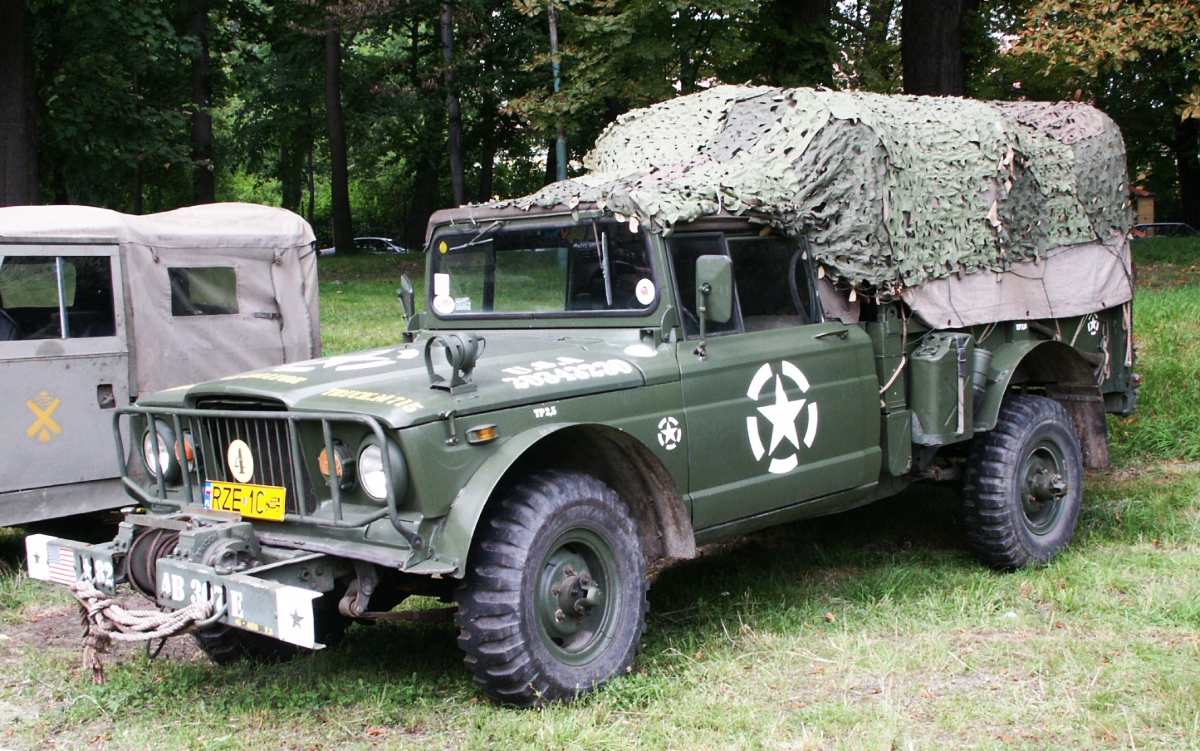 Built to replace the awesome but aging M37 – the U.S. military needed a hauler with increased mobility and larger load capacity. The M715 – introdcued in the mid-1960s – is the result. While it wasn't much to write home about initially – it ended up being a favorite of those who used it through the years. And if you want one bad enough, it can become a favorite of yours. The Jeep M715 is for sale to civilians for anywhere aroun $8,000.
Lamborghini LM002
If there's a more fun to drive vehicle on this list – we're not sure which one it is. Well, maybe the submarine. But the Lamborghini LM002 was an off-road SUV designed and utilized in the mid-1980s and into the 1990s. It's got the V12 powertrain of a Lamborghini Diablo in the body of a Hummer. It's got to be a real treat. And if you've got $400,000 to blow then go for it. The LM002 was used for off-road transport and cargo roles by multiple militaries.
Land Rover Defender 110
The all-terrain 4×4 Land Rover Defender was a succesor to a vehicle on this list – the Willys Jeep of WWII. The Defender became a legendary vehicle in its own right. The Defender was produced in the UK and utilized aluminum for the majority of construction. This decision resulted in longevity and corrosion-resistance, something that militaries the world over appreciated. The Land Rover Defender is available for sale to civilians for anywhere from $15,000 to $25,000.
If you haven't already gone to purchase one of these awesome military vehicles for sale to civilians, we think you'll love military aircraft available to civilians!