Interesting Facts About The P-51 Mustang
One Of The Longest Fighter Missions Of The War Happened In A Mustang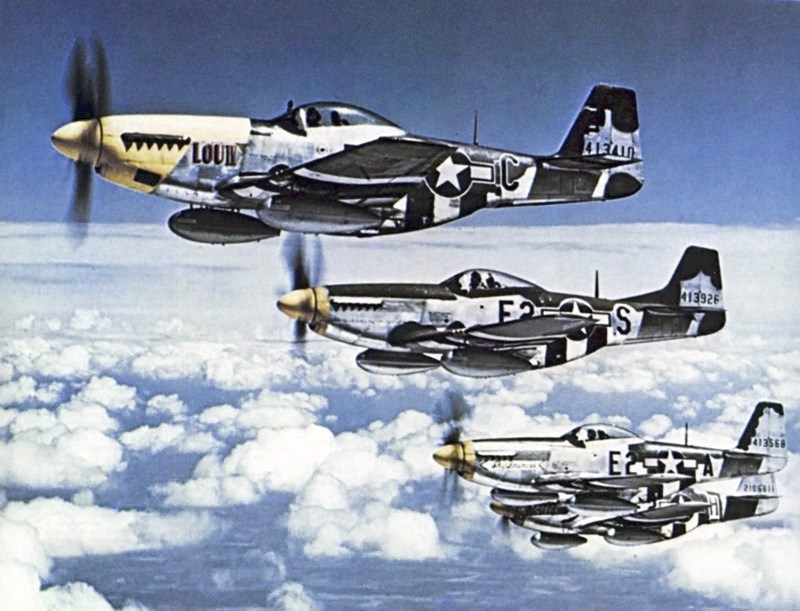 While the P-51 Mustang is thoroughly American, other allied pilots made good use of them. One of the most interesting P-51 Mustang Facts comes from RAF Flying Officer George Stanton, who served with both the Royal Air Force and the Polish Fighter Squadron during the Second World War. Stanton flew one of the longest missions of the war.
"I flew one of the longest missions ever made by a P-51, from Andrews Field in England to the Fuhrer's mountain top retreat at Berchtesgaden, Bavaria and back. We were in the air seven hours and came back to England on fumes. We accompanied a flight of bombers sent to flatten Hitler's retreat."
– RAF Flying Officer George Stanton
The First "Red Leader" Was A Mustang Pilot
While Star Wars cemented the public image of Red Leader flying a spacecraft in a galaxy far, far away, the original Red Leader was a Mustang ace and a legend – George G. Loving. After beginning with Supermarine Spitfires, Loving transferred to the P-51 Mustang in the spring of 1944. He flew in some of the most dangerous missions of the war. Loving went head to head with the Luftwaffe's best and more often than not came out on top. Loving had an illustrious career in the US Air Force after the war, and lived a long life before passing away in December 2016.
A P-51 Mustang Still Holds World Records
After it retired from military service, the P-51 Mustang became popular as a racing aircraft. In that capacity it still holds a few world records for propeller driven piston engined aircraft. On May 23, 2013, a refurbished P-51 Mustang owned and flown by Doug Matthews of Palm Beach, Florida set the time to reach altitudes of 30,000 feet (reached in 18 minutes) and 40,000 ft (reached in 31 minutes), as well as altitude records: 40,100 ft in level flight and 42,500 ft of maximum altitude. This is a testament to the strength of the original design.
The Greatest P-51 Mustang Ace Of The War Died In Combat
Major George Preddy, US Army Air Force, was the greatest P-51 Mustang ace of the war. He holds a stunning record of 26.83 enemy air-to-air kills. In one engagement over Germany, Preddy took out six Luftwaffe pilots in one run. Preddy's skill was unmatched, but his luck ran out when his plane was wracked with flack over Belgium and Preddy was lost. Dead at the age of 25, his service was honored with numerous citations, including the Distinguised Service Cross, the Silver Star with one oak leaf cluster, a Purple Heart, an Air Medal with two oak leaf clusters, several campaign medals, the Belgian Croix de Guerre, and the Army Presidential Unit Citation.
This American Aircraft Had A British Engine
World War II was a collaborative effort, with the Allied nations sharing technology, information, and resources as best they could. This came to light with the design evolution of the P-51 Mustang. While it was originally equipped with a liquid cooled Packard V-12 engine, British engineers experimented with a P-51 Mustang refitted with the UK's own Rolls-Royce Merlin engine. This design offered some advantages, and went into combat over Europe in 1943.
The Mustang's Design Caused Dangerous Confusion
When they were first introduced into RAF service as part of the lend-lease program, the P-51 Mustang was a welcome addition to the Royal Air Force's fleet. However, British pilots soon noticed something peculiar. Enemy bombers didn't react defensively when a P-51 began an attacking run. Likewise, there were a number of friendly-fire incidents in which British anti-aircraft gunners would shoot at British and American P-51 Mustangs. The reason was so simple it went unnoticed at first. The P-51 Mustang was new to Europe and looked enough like the German Messerschmitt 109 to cause fatal confusion. Thankfully, training on both sides soon caught up and such mistakes were avoided.
There Were Nazi P-51 Mustangs In The Second World War
A number of P-51 Mustangs did fall into German hands during the Second World War and were used by the Luftwaffe for testing and evaluation. Due to the large number of missions flown by Mustangs over Europe, many of them did crash on the continent. The Luftwaffe's Zirkus Rosarius, a special unit tasked with evaluating enemy aircraft, would capture and rebuild them for testing. Repainted in Nazi livery, they flew test missions over the German homeland. It's thought that none were ever used in combat.
The P-51 Was Ridiculously Tough
Built with the typical American "bigger is better" mentality, the P-51 Mustang soon acquired a reputation as one of the most robust and unkillable aircraft of the war. While in the main it proved this attribute by soaking up enemy fire on mission after mission, there were more incredible moments. During a strafing run on a Nazi position in France, a P-51 pilot flying at "zero feet" accidentally clipped off half of his wing on a concrete telegraph pole. Undeterred, he finished his attacking run and then flew safely back to the UK.
Pilot Survivability Was Key In The Design
The Allies had an interesting problem. Between British and American industrial might, they could produce nearly as much equipment as they could ever want. However, replacing manpower was difficult, in particular highly trained personnel like pilots. Thus with the Mustang, pilot survivability was key in the design. One of the strongest testaments to this came during the Dieppe raid. A Canadian pilot, hit while providing close air support, flew back to his airfield in Britain with this message on the radio, "Here I come. Get ready. No landing gear, no flaps, no nothing". With only partial use of his landing gear, this brave warrior managed to land the plane such that he survived unscathed to fight another day.
The P-51 Mustang Got A Jet Upgrade
The P-51's service extended past World War II and into the Korean War. Which meant that the Mustang had to contend with the first generation of jet fighters in both friendly and enemy hands. While its long flight times and tough build made it competitive, it soon became apparent that upgrades were needed. Some variations of the Mustang were thus fitted with wing-mounted pulsejet engines to provide a useful boost of speed in a critical moment. While ultimately they were eclipsed by US jets, they remain an interesting moment in the history of propeller driven piston engined fighters.
The P-51 Mustang Hunted UFOs – P-51 Mustang Facts
1948 was a big year for UFOs, with several high profile "sightings" in the US. The P-51 Mustang played a key role in two of these, when it went up against unidentified flying objects in the defense of this nation. The first happened in January of that year, when Kentucky Air National Guard pilot Thomas Mantell sighted and tracked a UFO in the skies over his native state. While the incident failed to yield definitive proof of an alien encounter, it did heighten public interest and prove the worth of a robust Air National Guard program. A similar incident later that year in North Dakota lead to similar results.
Proof of aliens? Not really. But it's a testament to the confidence these pilots had in their aircraft that they greeted the incidents without fear.
The Redtails Flew P-51 Mustangs And Became Legends
The Tuskegee Airmen are some of the bravest pioneers in aviation history. A group of African American pilots, they fought the enemy abroad, and racism and discrimination at home. Nicknamed the Redtails due to the iconic all red tail surfaces of their P-51 Mustangs, the Tuskegee Airmen accrued one of the best battle records of the war. They flew hundreds of bomber escort missions, and never lost a bomber to an enemy fighter while on duty. A testament to both their skill and the abilities of the P-51 Mustang.
References:
US Air Force Museum
|
US Air Force
|
Museum of Army Aviation
|
Tuskegee Airmen National Museum