How Much Does An F-22 Raptor Cost
The F-22 Cost Is Astronomical
Have you ever wondered to yourself, "How much does an F-22 Raptor cost?" If so, you're certainly not alone in that regard. The price tag is insane…but so are the capabilities! But do the capabilities match the overall F-22 cost? Let's find out.
The F-22 is expensive. There's no doubt about that.
In fact, the U.S. Air Force stopped production early on the fifth generation fighter because of the soaring F-22 costs. The cost of one aircraft alone is an estimated $334 million which includes research and development (unit cost of $150 million). The Air Force originally wanted 700 F-22s to be produced but had to cancel production just shy of 200 because they were already over-budget.
The flight cost per hour for an F-22 is roughly $70,000.
While the Raptor has received criticism for being too expensive and specialized to be of practical use to the US Air Force, it has proven to be the unmatched leader of the skies. Production of the F-22 fleet ceased long before the original requirement of 700 or so units were complete due to budget cuts, and there are only 183 in the Force today. Maintenance and modernization of the existing fleet, however, is expected to continue for the thirty-year life cycle of the jets.
F-22 Price Per Flight Hour
The costliness of the F-22 Raptor is one of the aircraft's biggest criticisms. In 2013, TIME Magazine reported the cost per hour to operate the F-22A was $68,362. Now, that's a lot, but not the most expensive on the list of military aircraft. For example, Air Force One was listed at $161,591 per hour. So what does this number include? This number means the cost of ownership, including modifications over the lifetime of the jet. In 2014, the F-22 fleet required over 40 hours of maintenance per flight hour. It seems that as the fleet has aged, the maintenance requirements have increased considerably. The F-22 cost per lifecycle of one Raptor is an estimated $334 million.
With an approximated F-22 cost of $150 million each, how long should a single F-22 be able to last? Well, according to Lockheed Martin, the F-22 will last up to and potentially beyond 40 years. The Government Accountability Office estimates that fixing and flying the F-22s throughout their lifespan will amount to just shy of $60 billion dollars.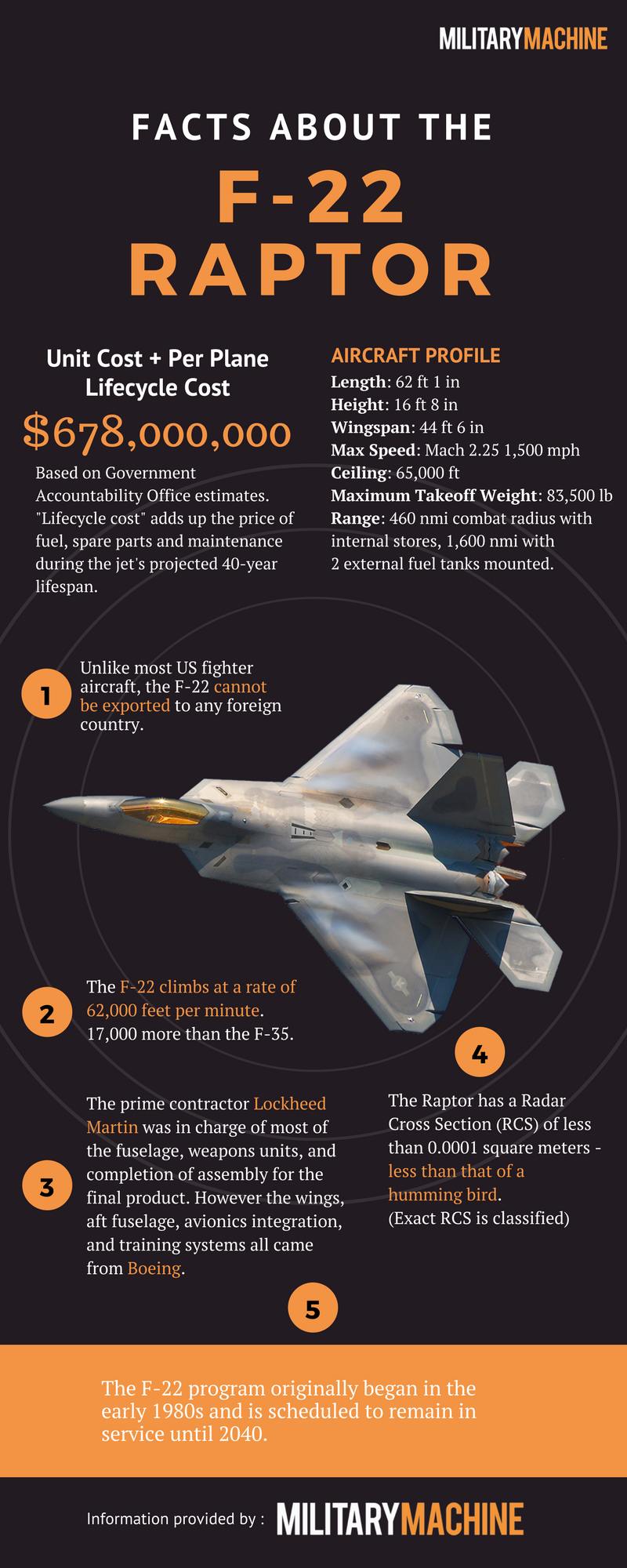 Want to compare the F-22 cost vs the F-35 cost? Check out this in-depth review here.