F-35 Lightning II vs F-16 Fighting Falcon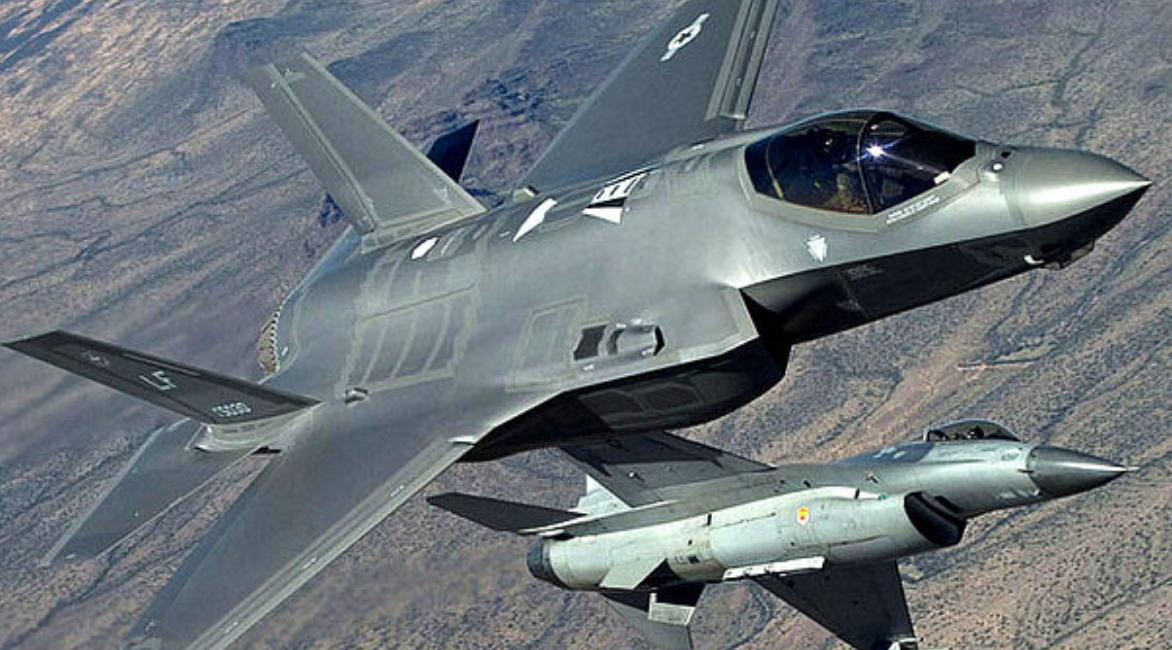 Brought into existence to replace the aging line of U.S. fighters, the F-35 Lightning II is the latest and greatest multi-role attack aircraft in the U.S. Air Force. But how does it compare to the very plane it's replacing – the F-16 Fighting Falcon? Standard logic says that of course the F-35 is the better aircraft – brand new, advanced stealth and avionics, heightened tactical capabilities – but don't count the F-16 out just yet. Although the Fighting Falcon is long in the tooth, it still holds its own in certain aspects when comparing the F-35 vs F-16.
F-16 Background
The F-16 Fighting Falcon is a single-seat/twin-seat (depending on variation) multi-role attack fighter. High maneuverability, air-to-air combat and air-to-surface attacks are the F-16s calling cards. It is in use by several other nations and its low-cost, high-performance reputation makes it one of the most popular fighter jets in aviation history.
The F-16A, the original model of the Fighting Falcon, delivered to the U.S. Air Force in January 1979 to the 388th Tactical Fighter Wing at Hill Air Force Base, Utah. Since then, dozens of variations and mission-specific modifications have been added. However, the predominant variations are the F-16 A,B,C,D,E,F and V. Built-in structural and wiring provisions/systems architecture allow expansion of the multirole flexibility to perform precision strike, night attack and beyond-visual-range interception missions in all F-16 Fighting Falcons delivered since 1981.
Operation Desert Storm in 1991 utilized more F-16s than any other aircraft in the Persian Gulf. These fighters attacked airfields, military production facilities, Scud missiles sites and a variety of other targets during their deployment. Additionally, U.S. Air Force F-16 multirole fighters flew a variety of missions to include suppression of enemy air defense, offensive counter air, defensive counter air, close air support and forward air controller missions during Operation Allied Force.
F-35 Background
The U.S. military's latest fifth-generation fighter is the F-35. The first F-35 Lightning II delivered to the U.S. Air Force in July 2011 to Eglin Air Force Base, Florida. F-35A, F-35B and F-35C are the three variants of the fifth-generation fighter. F-35A CTOL (conventional takeoff and landing) is designed for the U.S. Air Force. F-35B STOVL (short takeoff and vertical landing) is designed for front-line combat zones and the U.S. Marine Corps. F-35B CV (carrier variant) is designed for aircraft carriers and the U.S. Navy.
A single-seat, multi-role attack fighter, the F-35 Lightning II boasts aerodynamic performance and advanced integrated avionics. It provides next-generation stealth, enhanced situational awareness, and reduced vulnerability for the United States and allied nations. Additionally, it has an enhanced capability to survive in the advanced threat environment in which it was designed to operate. That's a key factor when discussing the F-35 vs F-16, because the F-35 isn't designed to fight face-to-face like the F-16.
F-35 vs F-16 Dogfight
There is much discussion over the F-35 vs F-16 dogfight. Especially because a report came out in 2015 detailing how the F-16 outmatched the F-35 in a dogfight. But there are key factors that need to be put on the table before forming an accurate opinion on the F-35s ability to hold its own.
First, the technology, engine and pilots were brand new at the time. Since the report of the poor results came out, much has changed about the flight operation of the F-35. U.S. Air Force generals have said publicly that the pilots flying F-35s currently are trained to fly legacy aircraft. Essentially, the new plane doesn't react like most of the other U.S. fighters. The next generation of pilots will be the ones to determine to capabilities of the Lightning II.
Secondly, the F-35 isn't meant to fight wars like the F-16. The F-16 is designed with a battle, a real dogfight, in mind. The F-35, with its fused sensors and tactical stealth capabilities, intends to seek, locate and strike its opponents long before the enemy ever even sees the F-35. U.S. Air Force Gen. Mike Hostage said, "The F-35 pilot who engages in a dogfight has either made a mistake or been very unlucky."
Technically speaking, the F-35 has a lower thrust to weight ratio – 1.07 vs 1.11 of the F-16 – an important statistic in dogfights. Additionally, its close range weaponry is underwhelming compared to the Fighting Falcon. However, the U.S. Air Force believes that the age of the dogfight is over. Battles will be fought with the long-range, advanced technology inside of the F-35 Lightning II, not the close-range weaponry of the F-16 Fighting Falcon.
F-35 vs F-16 Speed
Three unique F-35 variations require three unique Pratt & Whitney F135-PW-100 engines. However, the overarching specs of the F135 engines are similar. The engines are a derivative of the F119-PW-100 engine found in the F-22 Raptor. The F135 is 220 inches long with a maximum diameter of 46 inches and a bypass ratio of 0.57. It contains advanced health monitoring, network logistics support designed to reduce sustainment costs. The Pratt & Whitney F135-PW-100 engine gives the Lightning II a maximum speed of roughly 1,200 miles per hour.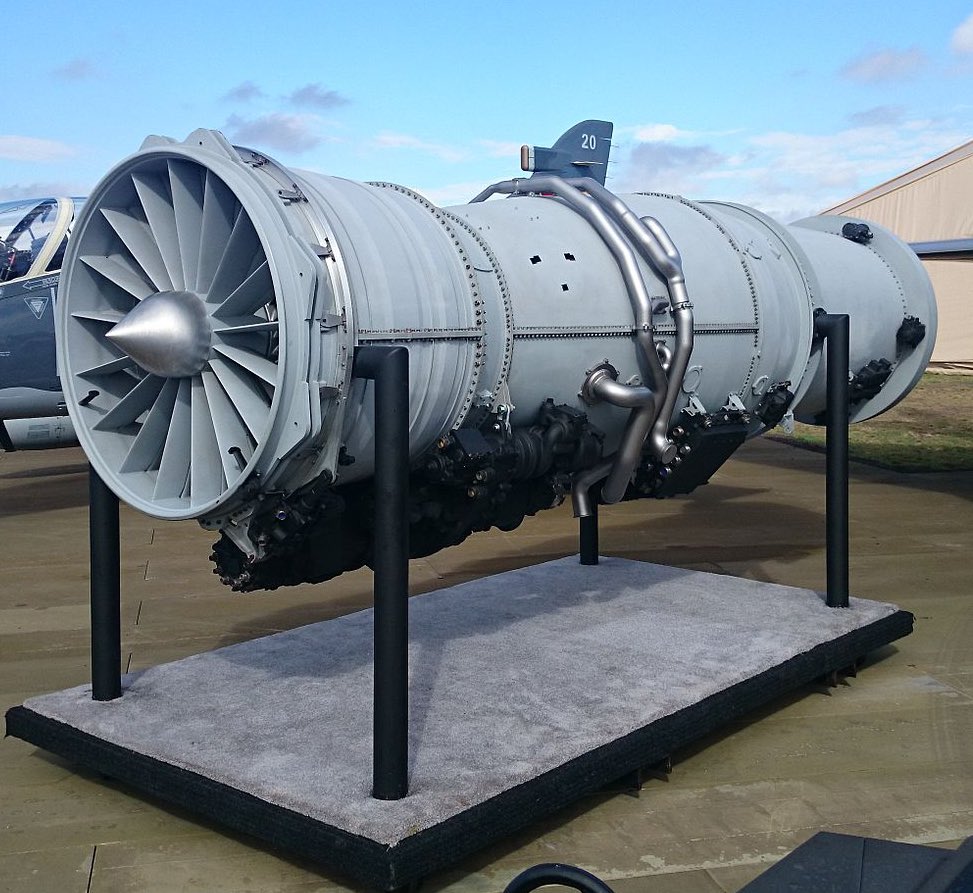 General Electric's F110-GE-129 powers the majority of F-16s in use currently. According to GE, the F110-GE-129 safest single-engine powerplant in U.S. Air Force history – in its class. It shares commonality with 81 percent of parts from the F110-GE-100, the engine used in most original F-16s. The F110-GE-129 is 181.9 inches long, has a maximum diameter of 46.5 inches and a bypass ratio of 0.76. All these specs add up to a F-16 speed of 1,500 miles per hour – roughly 300 miles per hour faster than the F-35.
F-35 vs F-16 Noise
There has been a lot of noise about the noise. Specifically with the F-35. Communities surrounding Air Force Bases across the U.S. have made themselves heard: the F-35 Lightning II is loud. So loud that an Environmental Impact Statement was ordered by the EPA to determine the effect of the jet engine noise on the surrounding residential areas. The findings of that research conclude that noise emitted from an F-35 during approach is roughly four times louder to the human ear than the F-16 Fighting Falcon.
Newly outfitted F-16s, with Pratt & Whitney 229 engines, register on a similar decibel level as the F-35. However, the majority of the F-16s do not have that engine.
F-35 vs F-16 Comparison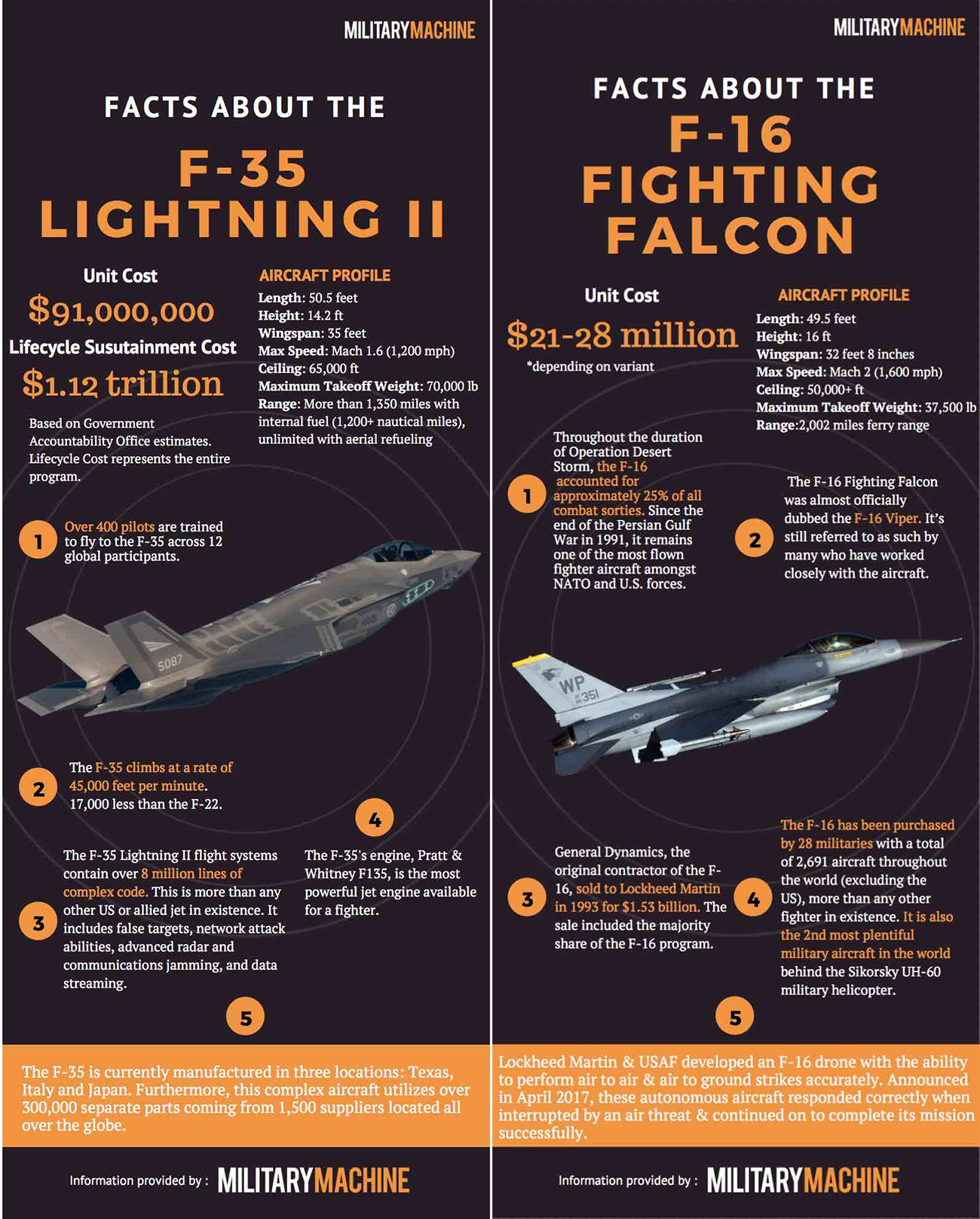 See F-35 vs F-16 Specifications
| | F-35 Lightning II | F-16 Fighting Falcon |
| --- | --- | --- |
| Primary Function | Advanced stealth multi-role fighter | Multi-role fighter |
| Contractor | Lockheed Martin | General Dynamics (now Lockheed Martin) |
| Power | One Pratt & Whitney F135-PW-100 turbofan engine | GE F110-GE-129 or F110-GE-132 or F110-GE-100 turbofan engine |
| Thrust | 43,000 pounds | 29,000 pounds |
| Wingspan | 35 feet (10.7 meters) | 32 feet, 8 inches (9.8 meters) |
| Length | 50.5 feet (15.7 meters) | 49 feet, 5 inches (14.8 meters) |
| Height | 14.2 feet (4.38 meters) | 16 feet (4.8 meters) |
| Maximum Takeoff Weight | 70,000 pound class | 37,500 pound class |
| Fuel Capacity | 18,498 pounds | 7,000 pounds internal (3,175 kilograms); typical capacity, 12,000 pounds with two external tanks (5443 kilograms) |
| Speed | Mach 1.6 | Mach 2 |
| Range | More than 1,350 miles with internal fuel (1,200+ nautical miles), unlimited with aerial refueling | 2,002 miles ferry range |
| Ceiling | Above 50,000 feet (15 kilometers) | Above 50,000 feet (15 kilometers) |
| Crew | One | F-16C – one; F-16D – one or two |
| Unit Cost | $91million | $21 to $28 million, depending on variant |
References:
Lockheed Martin
|
Pratt & Whitney
|
General Electric
|
U.S. Air Force
|
Check out the comparisons between the F-22 and the F-35.