Humvee Facts: 35 Things To Know About The HMMWV
Manufactured by AM General, the High Mobility Multi-Purpose Wheeled Vehicle – or Humvee as it is often referred to – is a mobile, four-wheel-drive, diesel tactical vehicle and serves at the core of the US Army's wheeled vehicle fleet. Inredibly modular, the Humvee has nearly as many uses as there are items on this Humvee facts lists. Enjoy learning all about it.
In 1979, the US Army issued a draft specification for the new tactical vehicle. This eventually resulted in the development of the HMMWV. Three contractors received contracts: AM General LLC, Chrysler Defense and Teledyne Continental. They were tasked to design and develop 11 prototype HMMWVs (six weapon carriers and five utility vehicles). Testing was conducted over rocky hills, deep sand, 60in-deep water, desert heat and arctic snow over 600,000 miles.

The US Army awarded a contract to AM General in 1981 to produce additional prototypes of the tactical vehicle. The development and operational testing was conducted in 1982. By 1983, the US Army awarded a contract to AM General to manufacture 55,000 HMMWVs; of which 39,000 were for the US Army and the rest went to the US Marine Corps, US Air Force and US Navy.

The Humvee was put into production to replace several outdated American military vehicles. The high-mobility multipurpose wheeled vehicle, or HMMWV, or Humvee, has been fielded since 1985. Prior to the Humvee, the main military ground vehicle was the Ford M151A2. Originally produced in the early 1950s, delivery of the M151 began in 1960. Difficult handling characteristics resulted in new versions introduced in 1963 (M151A1) and again in 1969 (M151A2). Initially, Ford produced the subsequent version of the M151A1 – aptly named the M151A2 – from 1969-1971. AM General won the next contract and took over production in 1972 and continued rolling out M151A2s until 1985.

One of our favorite Humvee facts is that the Humvee serves over 40 nations. Roughly 200,000 Humvees have been built to date. Although it was originally intended as a light utility vehicle, the uses for the Humvee have expanded. There have been more than 20 variants of this highly customizable, modular platform. For instance, look at the two Humvee's in this photo and how they differ.

It's variations are, well, varied. The Humvee is one of the most versatile vehicles in the military's arsenal. It's able to carry and deploy almost anything, from fully armed troops to anti-aircraft missiles. The Humvee is an open-topped scout vehicle, an armored personnel carrier, ambulance, a TOW missile launcher, a communication center, a heavy offensive platform and whatever else the situation requires. One of the more versatile Humvee facts.

The wheels themselves contain portal-geared hubs that create a rather unconventional drivetrain. This doubles the total amount of torque generated, but due to the offset driveshaft inputs, it also enables the vehicle's ground clearance to be noticeably higher than a regular center axle would allow. Any fact about the bad*** capabilities of the HMMWV is instantly one of our favorite Humvee facts.

This unique drivetrain goes hand-in-hand with independent suspension and 37-inch tires which allows the Humvee to travel at 70 miles per hour. Fun visual: think of a Humvee and a cheetah side by side going a top speed of 70 mph. That gives us a new appreciation for the power of these vehicles. Also, it gives it the capability to climb slopes of 60 percent! Some pretty cool Humvee facts right there.

The inside of the Humvee – which is fully air conditioned by the way – is outfitted with a deep-water fording kit that allows the vehicle to cross rivers almost completely submerged. This, combined with a sturdy chassis, corrosion resistance, high commonality and interchangeable parts, enable the Humvee to be flexible, dependable and rugged even in the harshest of environments.

Since the Humvee was introduced, varied and increased protection has been a focus. A fun tidbit of Humvee facts is that the early versions had no doors and a fabric roof. However, the demands of Somalia, Iraq and Afghanistan demonstrated the need for improved armor. Many improvised solutions have been tried in the field in recent years, including sandbags and welding scrap metal to the chassis – which create some odd-looking Humvees. However, heavily armored versions are now available from the factory; as are retrofit kits which include under-body plates, heavy doors, armored seats, weapon shields and many other additions.

The latest Humvee models offer protection from high-volume offensive fire, some air-burst artillery, and up to 12 pounds of blasts. This is made possible by thick steel armour, energy-absorbing coatings and mounting, and reinforced glass. But – there's a price to pay for protection. Many Humvees carrying 2,000-4,000 pounds of armour do so in in place of cargo and equipment. These Humvee facts come to play in crucial moments during combat.

Humvee facts lists wouldn't be complete without talking about it's offensive capabilities. The variety of weapons the Humvee carries is truly impressive. The most common weapon choice is the legendary M2 Browning .50 Caliber; however a choice of general purpose high-volume armaments can be fired manually or fitted to the remotely operated CROWS turret system.

That being said, the following weapons are also compatible with the Humvee: M134 mini weapon, 1.6-inch grenade high-volume weapon, TOW anti-armour missile, or in situations requiring a little bit of overkill, the Humvee is designed to tow a Howitzer. The ultimate version, however, has to be the Boeing-developed Avenger, which carries anti-aircraft missiles.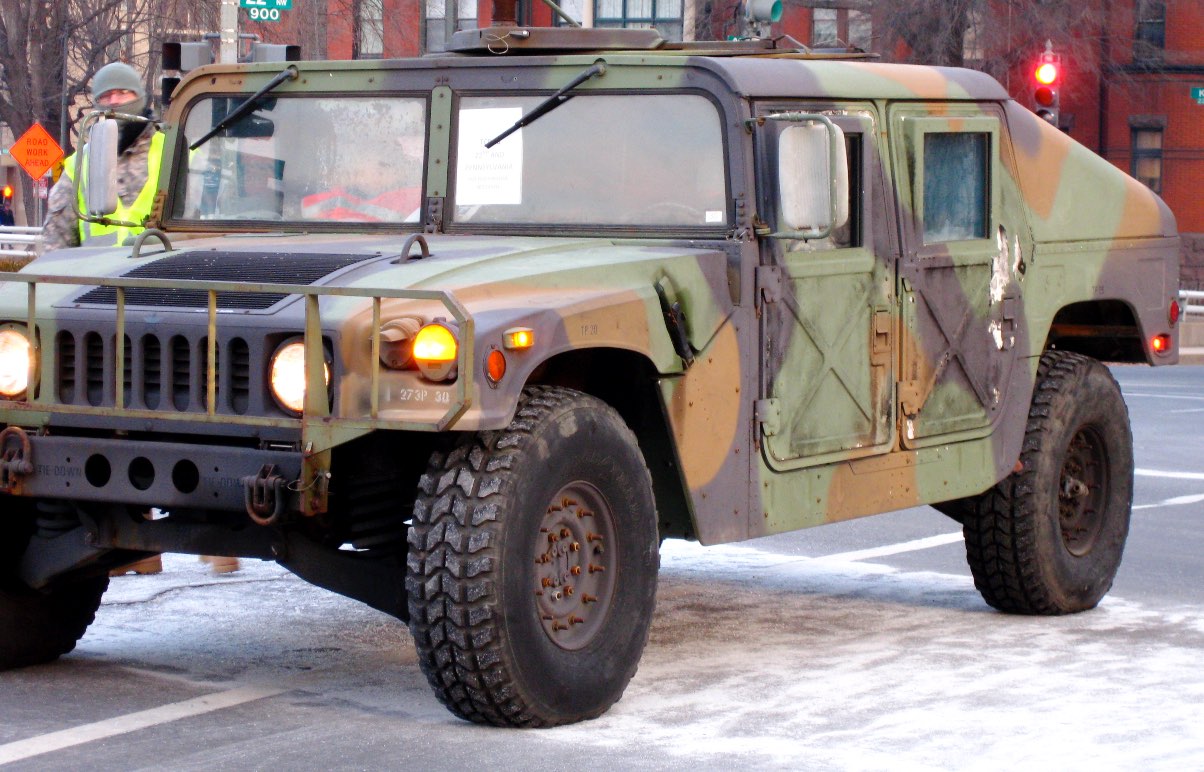 Armour configurations vary from having doors that weigh more than a heavyweight boxer, to doors made of cloth meant to drastically reduce weight, to having no doors at all. These are interchangeable depending on the mission. If you're ambitious enough, you can purchase almost any Humvee door online. The cloth doors run anywhere between $200 – $1000 and the hard steel or aluminum doors can cost up to $5,000 for a set of four.

Riveted and bonded aluminum body panels give premium strength, low weight and flexibility to help off-road performance. The aluminum is rust-resistant and light-weight, especially when compared to conventional steel. Rust is like mold on a fruit or weeds in a lawn. When one part of the Humvee body begins to rust, it then quickly spreads to the rest of the vehicle from the center point. These Humvee facts get better and better.

In 1989, the HMMWV entered combat as part of Operation Just Cause, the US invasion of Panama. Per the U.S. Army, "In the early morning hours of December 20, 1989, the United States Army spearheaded a carefully planned and well-executed attack that overwhelmed the Panamanian Defense Forces (PDF) of dictator Manuel Noriega. The goal was to restore the democratically elected government of Guillermo Endara and arrest Noriega on drug trafficking charges." The HMMWV was a key part of that offensive.

The US Army fielded a new variant in 2008 to the National Training Centre; the M-1151A1. The M-1151A1 is fitted with a fragmentation kit 5 (FK 5) and an objective gunner's protection kit. The two available armor kits are separated into "A" and "B" – the "A" kit is factory installed. The "B" kit provides gapless mine and ballistic protection when combined with the "A" kit.

The FK 5 was built to provide IED blast protection and small arms protection. The objective gunner's protection kit provides the gunner to view the battlefield with high safety through the transparent armored glass. AM General launched the high-end armor kit fragmentation kit 7 (FRAG 7) for the M1151 up-armored HMMWV in 2009.

$1.2 billion. That's the amount that AM General received in 1983 for an initial production contract worth to produce 2,334 HMMWVs as a first increment of the total order of 55,000 vehicles. During 1984, the production of these vehicles began and the first deliveries were made in 1985. By 1991, 72,000 HMMWVs were produced including international sales.

Satisfied with the operation of the Humvee, the Depart of Defense wanted more. In total, 190,000 units were produced by 2008. AM General received multi-year contracts for another 33,000 vehicles. Orders for an additional 20,000 vehicles from over 40 international governments have been received since 1991. Did you know that civilians can purchase variations of a Humvee? Click here to see which Humvees for sale there are, as well as other military vehicles for sale.

It just keeps going. In 2000, AM General was awarded a production contract to manufacture 2,962 trucks in the M998A2 series. The contract ran until 2007 with six single-year increments. The contract period was later on extended to 2009. AM General delivered more than 85,000 trucks under this contract. Did you expect to see a police humvee when you clicked on this list of Humvee facts?

Continuing with the current theme, AM General signed a $619 million contract in August 2010 with the US Army to deliver 2,526 HMMWVs for the Afghan police force and National Guard. The US Army Tank-Automotive and Armaments Command (TACOM) placed two contracts for 153 HMMWVs in May 2010. The U.S. Army placed a $546 million contract for 2,845 HMMWVs in March 2011.

In April 2011, the US Army released a second request for information (RFI) for the competitive HMMWV recapitalization program. The program is intended to upgrade around 60,000 older model HMMWVs to like-new condition vehicles with high levels of protection. The major contenders BAE Systems, Oshkosh and AM General developed kits for the HMMWV recap program. One of the more recent Humvee facts.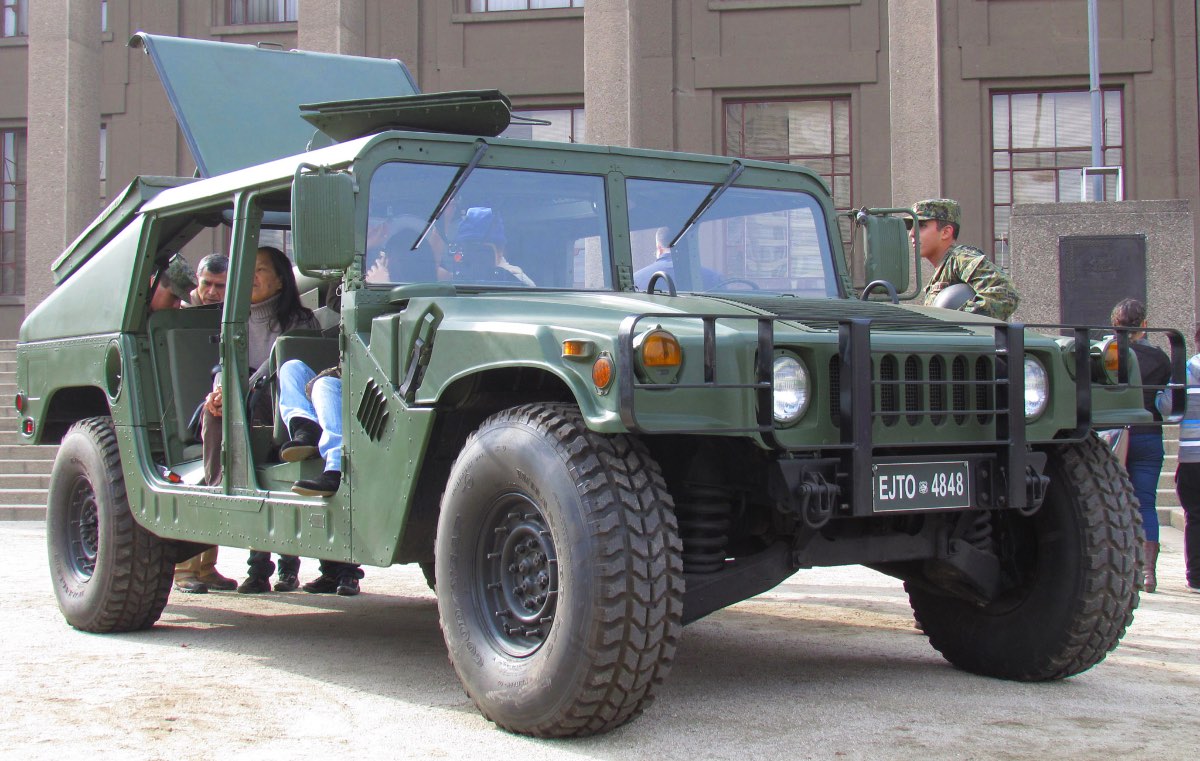 Dimensions of the Humvee: the vehicle is 6ft high, 7ft wide and 15ft long. The chassis is a steel frame with boxed frame rails and five cross members constructed from high-grade alloy steel. The body is made of aluminium which reduces the weight and provides high resistance to corrosion.

The gross vehicle weight rating (GVWR) of the M998 HMMWV is 7,700 pounds with a curb weight of 5,200 pounds. At max payload of 2,500 pounds, the vehicle can reach a top speed of 65mph. A 12V/24V electrical system is used and its fuel tank has a capacity of over 25 gallons.

All four wheels of the Humvee are outfitted with disk brakes. The disk brakes are mounted inboard to the wheels outside of each differential. The reason that disk brakes make this list of Humvee facts is that compared to rim brakes, disk brakes have a much higher stopping power or braking power. Which, when you're dealing with such a force as a Humvee, you need all the braking power you can get!

The latest Humvee models are based around a 6.5-litre V8 Turbo diesel engine which produces 380 pounds force per foot of torque. This power is sent to all four wheels through an electronically controlled four-speed automatic gearbox, using a series of differentials. Humvee facts about its power will always be some of our favorite.

The A2 series Humvee is fitted with a 6.5l V8-diesel engine that cranks out a 160hp power rating with a four-speed automatic transmission. The common A2 series vehicles have a GVWR of 10,300lb and can carry a payload of 4,400lb at a maximum speed of 70mph. A small differentiation from the M998 HMMWV. One of the more nuanced Humvee facts.

The key additional features to updated versions of the Humvee include an improved steering wheel and column, new rear seats, increased cargo capacity, improved brake pedal and an updated 9,000lb winch. Higher mobility was a priority which is why it was manufactured with a CTIS configuration. The vehicles under this model include M1097A2, M1097A2, M1123, M1097A2, M1025A2, M1043A2/1045A2, M997A2, and M1035A2. Humvee variations are certainly Humvee facts.

The Humvees got another group of extensions in 2006: The key inclusions are a geared fan drive, new cool pack and shroud, new shock absorbers, new A-arm bushings, re-engineered geared hub assembly and new parking brakes. The M1151, M1152 and M1165 are the three vehicles under this model.

There are differences between the Humvees built for use by US Armed Forces and those built for international use. The two foreign models are referred to as the Eagle and the Cobra. The international models are the vehicles produced in collaboration with foreign companies. AM General has joined hands with many international players to such as Swiss firm Mowag and Turkish company Otokar.

The Humvee has over 15 configurations such as cargo carriers, troop carriers, armament carriers, ambulance and shelter carriers. All of the variants have a common chassis, engine and transmission with 44 interchangeable parts fitted in various positions.

The M998 HMMWV is fitted with a 6.2l V8 fuel-injected, liquid cooled, diesel compression ignition engine that generates 150hp at 3,000rpm. It also has three-speed automatic transmission with a two-speed, locking, chain driven transfer case.

The Humvee has such high off-raod mobility due to its double A-arm independent suspension front and rear, coil springs and hydraulic double-acting shock absorbers. This system provides 16-inch ground clearance in normal load conditions. It has a track of 72 inches. The vehicle offers 40% of slide slope, 60% of slope-climbing and 60 inches of water fording capacities.

The Humvee can be transported by air. It is is air transportable, droppable and can be sling-loaded by helicopters. A C-130 Hercules aircraft can carry three HMMWVs and a C-5A Galaxy can carry an astonishing 15. In addition, the vehicle can be dropped by the low-altitude parachute extraction system.
The independent suspension and steep approach and departure angles make the HMMWV able to handle rough terrain, but that doesn't mean it can't get stuck. Fortunately, the vehicle can be recovered by the use of tow-bars if assisted by another Humvee, or self-recovery with a winch (if equipped). This allows the vehicle to be recovered by others in its convoy, without the requirement for dedicated recovery assets.